Coronavirus Road Cycling Holiday Information
Welcome to our dedicated page for Coronavirus / COVID information, and how this may relate to your road cycling holiday in France this Summer 2022.
We feel that there are many reasons to be positive, although we continue with our policy of being honest and transparent with all of our guests. As such, we want to provide you with information and assistance to help you make decisions about booking your road cycling short break.
We are optimistic that we'll able to provide our full range of cycling tours this summer, and are open for bookings for the full Summer Season 2022.
We have already delivered several very successful group Custom trips, as well as our our standard Classic and Lite short road cycling breaks this year.
We are very much enjoying Summer 2022 so far, but we recognise there is still a potential risk of future disruption to international travel, or the challenges that this could pose for next winter's ski holidays.
Whilst we will do our best to adapt and be flexible where we can, we do want to stress that we can't be expected to assume all the risk!
Please understand that we're not being pessimistic, and we hope it's going to be a fantastic Summer 2022 season, and really hope you'll all be able to join us for some amazing riding. We want to be as transparent and up-front with you as possible so that if you are unable to join us for whatever reason, it will avoid any difficult conversations further on down the line!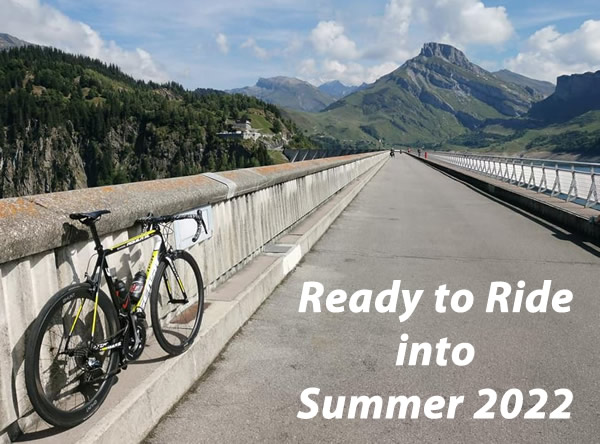 An Equal Acknowledgment of COVID and Travel Risks
We want to ensure you are happy to book with us, and that you have an awareness of the possible risks with forward planning international travel in this new COVID-world.
As we did in 2020 and 2021, we fully recognise our responsibility as a Tour Operator. Unlike some other operators who are trying to avoid this responsibility – we are governed by, and you are protected by the Package Travel Regulations.
If we are unable to operate your holiday safely and legally for you, offering all the elements of the holiday that you have signed up for (airport transfer, accommodation, cycling routes) then we would be forced to cancel your holiday.
This would also be the case when borders are closed, or the Foreign Office advises against all but essential travel to France. Equally, if (as they did so in March 2020) local laws and regulations mean that the accommodations are closed then we will be obliged to cancel the holiday.
If we have to cancel your holiday for whatever reason, we will offer you a 100% refund of all monies paid.
Equally, by booking a holiday with us you are accepting that you have certain obligations and acknowledge a degree of risk in agreeing to these. It is always your responsibility to get to the starting point of the holiday (which is either Geneva or Marseille), and that all issues related to travel restrictions, international entry requirements, health requirements, tests, forms or visas are your responsibility and will be at your expense.
If we are able to safely operate the holiday, but (for whatever reason) you are unable to join us and take up the holiday then this would be treated as a cancellation of the booking by you. This is covered by our Terms and Conditions and specifically – Section 6 – Cancellation by You.
Expectations for a Cycling Holiday in 2022
As with so many things in the post-COVID world, a cycling holiday could be a little different this year!
Whilst it's impossible to fully predict what measures may be required when you travel, we have outlined a few issues we think you should all take into consideration before confirming your holiday!
We strongly advise you keep an eye on these issues, and start planning now. Being organised and preparing in advance is likely to help you save money, and avoid any last-minute stress when travelling.
At all times, we recommend that you consult the official government websites to get the best advice.
For the UK you can find that here >>> https://www.gov.uk/foreign-travel-advice
COVID Vaccination and Passes
There are more choices and greater freedoms for people who have been double vaccinated.
This enables you to obtain a UK COVID Pass, which is also accepted across the EU.
Currently, if you are fully vaccinated then you are able to visit France without any entry restrictions. You simply need to show your COVID Pass.
If you are not fully vaccinated, then you will need to provide a negative PCR test result, taken within 72 hours before departure, or an antigen test result, taken within 48 hours before departure.
Wearing a mask is no longer compulsory in France, however, some public transport providers may require it.
Potential Issues Related to International Travel if Any Restrictions Are Re-imposed
You should be aware of the requirement to adhere to any testing requirements, and administrative procedures when travelling internationally. It will be your responsibility to ensure all of your party are compliant with these when you travel.
Additional documentation and test results/certificates may be required for all travel. You may need to submit/upload these before travel as well as to present them to officials at departure points/arrival hubs (such as airports, Eurotunnel and ports) at the time of outbound and inbound travel.
Testing may also be required in resort a day or so before your return flight home.
You will need to make sure that you allow enough time in order to be clear on what is needed at the time of your travel and so that you can get everything ready, and have the available technology to do this when travelling abroad.
Please make sure you know all about the requirements for entering Switzerland (Geneva), France and for returning to the UK. You can find latest information here>>> – https://www.gov.uk/foreign-travel-advice
Travel Insurance
It's even more important than ever that you ensure that you get a suitable travel insurance policy, and that you are aware of the cover provided and, perhaps more importantly, what is not covered!
We would highly recommend that you take out additional COVID-19 travel insurance. Many travel insurance policies will no longer cover you as standard if your holiday is disrupted due to Coronavirus. It is important that you check the small-print about what is covered before purchasing your policy.
Local Regulations
There could be COVID-related mitigation measures required at your destination to ensure the Health and Safety of our team, guests and partners. These may have an impact on the operational delivery of your holiday.
This will be dictated by the local French legislation in effect at the time of your holiday, and it could be different to our normal operating procedures, and also to what you have become used to in the UK.
Whilst it's impossible to fully predict what measures may be required, you should be aware that they may impact our operations in the delivery of your trip, or possibly in the feel of the holiday for you as a guest.
It is possible that face masks maybe required when inside public buildings (including communal areas of hotels, and shops etc).
Social distancing measures may also likely be in place to manage queues and crowds. 
Again – you can have confidence in us to do our best for you, but we do ask that you think about these things in advance and don't just expect it to necessarily be like the good old days!
We will keep you updated if the situation changes over Summer 2022.
Implications of Brexit
As a result of the UK leaving the EU, British passport holders should be aware of the following points related to travelling in Europe. For full details of travel requirements in the EU please see here >>>
https://www.gov.uk/visit-eu-switzerland-norway-iceland-liechtenstein
Passport Validity
Your British passport must have 3 months left after your return date, and it must have been issued within the last 10 years.
Some travellers who renewed passports before their previous one expired were given extra months beyond the 10-year expiry date to cover the period between when they renewed and the expiry date of their old passport. Those extra months may not be valid because of Brexit changes.
You can check yours here >>> https://www.gov.uk/check-a-passport-travel-europe
Visa Requirements
You do not need a visa to visit the EU for short stays as a tourist. However, if you are travelling regularly, or for a sustained amount of time, in the Schengen zone – please be aware of the 90 day limit (within a rolling 180 day period) and make sure you aren't close to the limit.
If in doubt, you can calculate your days in the Schengen zone here >>>
EHIC to GHIC
We recommend you apply for a UK Global Health Insurance Card (GHIC). If you already have a European Health Insurance Card (EHIC), this will still be valid until its expiry. The GHIC or EHIC entitles you to state provided medical treatment that may become necessary during your trip to an EU country (it is not valid in Switzerland). Any treatment provided in France is on the same terms as French nationals. The GHIC and EHIC do not cover all health-related costs, for example medical repatriation, ongoing medical treatment and non-urgent treatment.
Driving in Europe
For anyone driving, an International Driving Permit will only be required if you only have a paper licence or if your driving licence was issued in Gibraltar, Guernsey, Jersey or the Isle of Man. This can be easily obtained from UK Post Offices for an approximate cost of £5.50.
For anyone driving with their own car, you'll need a Green Card from your car insurance company. These can be obtained free of charge from your insurer in most cases. You'll also need a new UK sticker from the September 2021.
In summary, all of us at Bike Weekender are enjoying a degree of normalisation this Summer Season, but accept that there may still be some potential disruption and challenges to overcome in the future, given the ever evolving situation!
We require you to ensure you keep yourself up to date with the current situation, and make an informed decision before committing!
Any additional questions... ?