Travel & Transport to & from 4 day Road Cycling Weekends
As long-time weekend and short break specialists, everything about our format is geared towards providing hassle-free holidays which maximise your time spent enjoying the activities you love.
Helping to make things as easy as possible for your travel to and from your break with us is an important part of this.
Flights are the one major element of your holiday which isn't arranged by Bike Weekender; once you've booked onto one of our breaks you will need to book your own flights (or make other travel arrangements out to France) independently.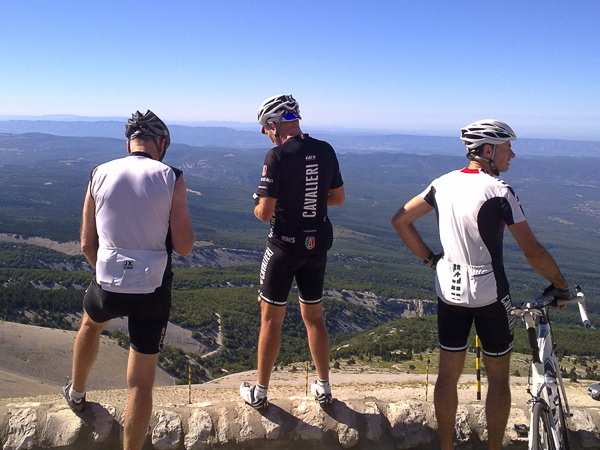 This means you can choose to travel from a range of airports – or take the self-drive or train route – to our meeting points at Geneva, Grenoble, Toulon, Marseille or Nice airports. From that point onwards, all your transport to and from our cycling bases, and on tour transfers / rides further afield for custom breaks, is covered by us as part of your package.
Fly out on Thursday, back on Monday for our standard breaks

Our standard 4 day 'Classic' and 'Lite' weekends run from Thursday evening to Monday evening, giving 4 fantastic days of cycling. These breaks run throughout the summer on fixed dates, at various locations across the French Alps, Provence and Côte d'Azur.
Travel to Bike Weekender breaks:
Arrange your own flights
Standard breaks start / end at Geneva / Marseille
Each break has 1 or 2 fixed start / end times
Custom breaks can start / end at other locations
Airport transfers are included in all prices
On these standard trips, for each break's fixed dates a start / end point will be specified – usually Geneva airport for Northern or Southern Alps trips, and Marseille airport for Provence or Côte d'Azur trips. Depending on the number of spaces on the trip, 1 or 2 afternoon / evening start / end times will be specified.
For available dates and locations for 'Classic' and 'Lite' holidays, have a look at our 2016 or 2017 road cycling holiday calendars and from there check out the start / end airport and timing details on individual break pages.
Finding the Best Flight Options for your cycling short break

One of the best starting point for finding flights is the website www.skyscanner.net – you can use this to search for flights from anywhere in the UK to a specific airport.
There are lots of flight options into Geneva throughout the summer, from all the major UK airports, mostly with Easyjet plus a few options from BA, Swiss and FlyBE.
Flights into Marseille are possible direct from Gatwick with Easyjet, or Stansted with Ryanair.
Flights & Travel for Custom Cycling Holidays

Our Custom Cycling Tours for groups and clubs are put together on a case-by-case basis, with an individually tailored itinerary, so for these breaks it's always possible to have things start / finish from different airports to match more convenient flights.
There are lots of different possibilities on this front… if you have a trip for a group of 6 or more in mind, the best bet is to contact us with details of your group size, possible dates and preferred riding locations, and we can then let you have full details on travel options.
Other Airports, Self-Drive & Train Travel Options

For any custom break, and some of our standard breaks, it's possible to arrange travel into different airports or by a different method to those outlined on the package details page.
Flights into Lyon or Grenoble airport, or Eurotunnel and TGV train travel via Paris to Annecy are viable options for Northern and Southern Alps trips. Flights into Toulon (small selection of flights with FlyBe) or Nice (larger selection of flights – but longer airport transfer) airports are possible options for Provence or Côte d'Azur trips.
For any of our holidays you could also self-drive direct to your base, making it possible to combine a Bike Weekender break with a longer holiday in France. We can provide full route details, driving directions etc. as needed.
Airport / station transfers from non-standard locations, or self-driving, may change the price of a break… if an alternative travel option looks possible for you, just contact us to discuss how this would work with trip timings and package pricing.
Questions about Travel or Flights?
Just email info@bikeweekender.com , call +44 (0) 845 557 5983 or
Contact Us