Road Cycling Holidays – Mont Ventoux and Provence
Experience the traditional charms of rural France as you cycle through vineyards and olive groves on a cycling holiday in Provence. This fabulous region features great riding and stunning cycle routes through rolling hills, and with sparkling sunshine filled days, after a morning cycling you can kick back and chill out by the swimming pool.
But don't get too relaxed, at least not before you've faced the epic ascent of Mont Ventoux – a must for all keen road cyclists. Beyond the mountain, the areas around Ventoux offer endless miles of quiet country roads, charming French villages, and traditional Provençal cuisine.
During a weekend you can explore the beautiful, rolling Luberon Regional Parc, the quieter, wilder and more hilly Vaucluse, or perhaps the wine country of Gigondas and the Dentilles de Montmirail.
Wherever you cycle you will find quiet smooth roads, pretty villages and the famously beautiful Provençal landscape, basking under the Mediterranean sun.
All in all, Provence – Mont Ventoux and the surrounding area is a very special location for a cycling short break in France.
Mont Ventoux / Provence Highlights
Epic Mont Ventoux – 'Giant of Provence'
Warm and sunny
Quiet roads
Cycle through vineyards
Classic Provençal cuisine
Great road cycling
Provence and Mont Ventoux – Sunny Cycling, Stunning French Countryside
If you had to pick perfect cycling conditions then Provence is going to come as close as anywhere we know. Clear sunny days, quiet smooth roads, stunning views and scenery with just the right amount of climbing and descending. It doesn't get much better than this!
Avoiding the mid-summer period, we offer our Bike Weekender trips here during May, June, September and October, ensuring the heat and sun is not too strong. Join us and you'll see that a weekend cycling in Provence makes for a very pleasant early and late season short break cycling holiday.
We'll make sure you'll be cycling quiet roads and finding the very best routes to explore this wonderful landscape. The whole region lends itself well to cycle touring – a road bike is a fantastic way of taking in Provence.
We can help to plan days riding through hilltop villages, vineyards and orchards, past Provence's famous fields of lavender (in bloom in June/July)… and we'll be sure to point out the best restaurants, cafés and bars en route.
The cycling in this region can still provide a good challenge for experienced riders, but it's perhaps not as daunting as the Alps and, as such, provides a perfect introduction to the joys of road cycling in France.
Cycling Routes and Cols in Provence, Luberon and Mont Ventoux
From our base at the foot of Mont Ventoux we can explore two great locations in Provence with a wide variety of rides and terrain to suit all levels of cyclist.
Our first region to explore is the magnificent Luberon Regional Park, in the heart of Provence. The Luberon area is quintessentially French, with a rolling countryside of vineyards, olives and orchards, stone built villages perched on hill tops and, of course, cycle routes a-plenty.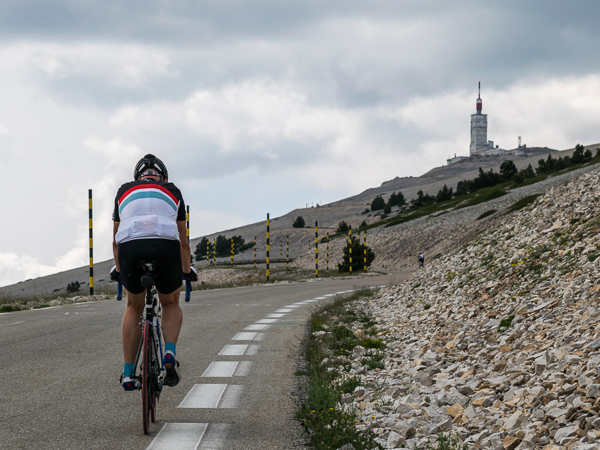 The second region is the area surrounding (and including) Mont Ventoux . Take in the scenic rides of the Gorges de la Nesque (a real highlight) and enjoy one of our favourite descents from the Col des Murs, before tackling the Giant of Provence itself – the legendary Mont Ventoux!
The mighty Mont Ventoux should be on every keen cyclist's bucket list. It has a great Tour de France pedigree, and as a 1912m / 22km climb, it's certainly a challenge. But it's a challenge that Bike Weekender can help you to achieve – without having to run part of the way, à la Chris Froome in 2016!
For more information on the great range of riding around Provence, see our route and col page here >>>
Bike Weekender Cycling Breaks at Mont Ventoux / Provence
Mont Ventoux has a Tour de France history and pedigree which inevitably attracts keen road cyclists to ride it at least once – or even 3 times in one day! It's the perfect challenge for your cycling club or group of cycling buddies to tackle…
The whole Provence region has so much potential for cycling; away from the "Giant of Provence" there's amazing touring on lovely quiet roads. Add in the challenge of the big mountain and you have a great formula for a relaxing, sociable and fun club or group weekend holiday.
Please contact us here to see how we can help your group or club ride in Provence.
Fancy a Cycling Holiday in Provence / Ventoux?
Just email us at info@bikeweekender.com , call us on +44 (0) 845 557 5983 or