Fully Supported Road Cycling Weekends to Provence / Mont Ventoux
Cycling in Provence – Rural France at its Best
Rolling hills, quiet roads, beautiful scenery and the sunshine of the South… these are the ingredients that make Provence and the Mont Ventoux region such a superb destination, and one of our favourite cycling holiday locations.
Imagine a long weekend spent riding amongst vineyards and olive groves, passing through historic villages perched on hill tops and taking in scenic gorges, rolling hills and great climbs too. The region of Provence and Mont Ventoux really does have something for everyone.
Our short breaks are designed to be the most convenient and hassle-free road cycling holidays – we will ensure that you enjoy 4 days of relaxing and fun cycling.
We look after everything – so you just need to turn up to Marseille airport on Thursday afternoon / evening and be ready to ride!
Although the riding in Provence is not as challenging as that in the Alps, our rides and routes include some good climbing and varied terrain to suit all levels.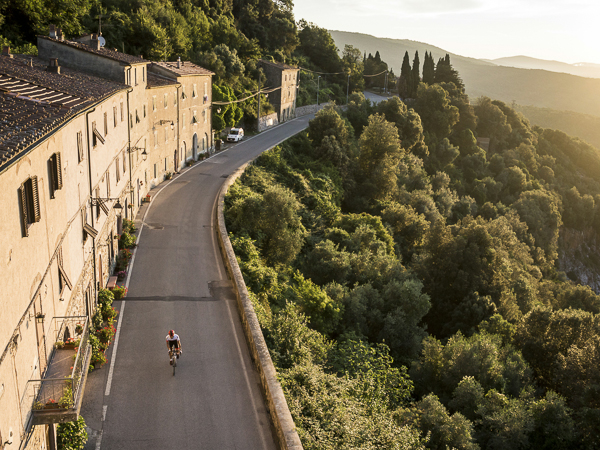 And of course don't forget the mighty Mont Ventoux, one of the most famous cycling ascents in the world… enough to provide a stiff challenge for even the most experienced riders!
Classic Cycling Routes touring Ventoux and the Luberon
We are spoilt for choice in this region as there are so many great cycling routes and so much beautiful Provençal countryside to explore.
Throughout our many trips to this region we have tested, refined and selected our selection of riding routes to make sure that you experience the best Provence has to offer.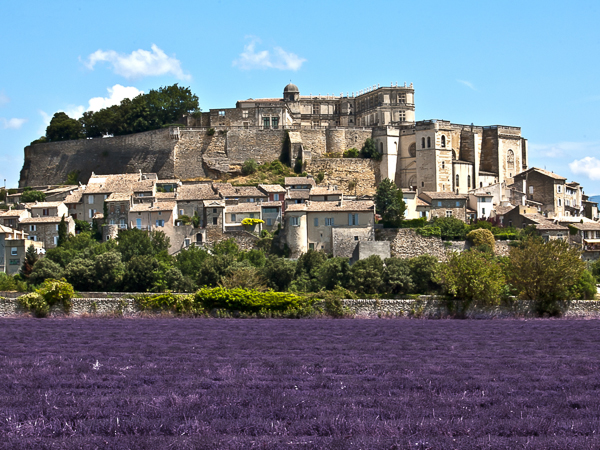 We'll spend a day exploring the rolling Luberon (made famous by Peter Mayle's 'A Year in Provence') as well as riding through the wine region of the Dentilles de Montmirail (inc. Gigondas), and of course we'll include an ascent of the 'Giant of Provence' – Mont Ventoux – which tops out at over 1900m.
Rides are typically between 50km – 110km and usually feature between 1,000 and 2,000 metres of climbing. Our 'Classic' package format includes a set ride each day – chosen for the best roads and scenery around.
Our minibus and Bike Weekender team will be supporting you all the way and will mark the route ahead of you, as well as carrying spare clothes, extra water, drinks, snacks and spare bike gear.
The village of Bédoin is our base in Provence and our friendly hotel here is perfect for a relaxing stay.
Enjoy the views of Mont Ventoux from the sheltered swimming pool, or take a post-ride stroll through vineyards and olive groves.
Dinner is taken at the adjacent restaurants and features dishes using the fantastic local produce that Provence is famous for – so a treat for your taste buds too.
Relax and Ride through Provence – we have it all taken care of.
Our Classic Provence and Ventoux breaks may be short, but they feel like a real holiday… you'll be amazed at how much riding we fit into your 4 day weekend. With a relaxed base, great cycling and stunning weather, a 'Classic' break in Provence is active relaxation at its very best!
The terrain is undulating; rolling climbs and twisty descents are the order of the day. Each ride has a different view and feel, but on all of them we find you the quietest country lanes to explore. From our base at the foot of Mont Ventoux we're right in the middle of cycling country… and you too will have a chance to join the hundreds of people taking on the climb to this historic summit each day. Our short breaks mix riding challenge with enjoyment and relaxation – you can take time on the rides to soak up the sunshine and enjoy your beautiful surroundings.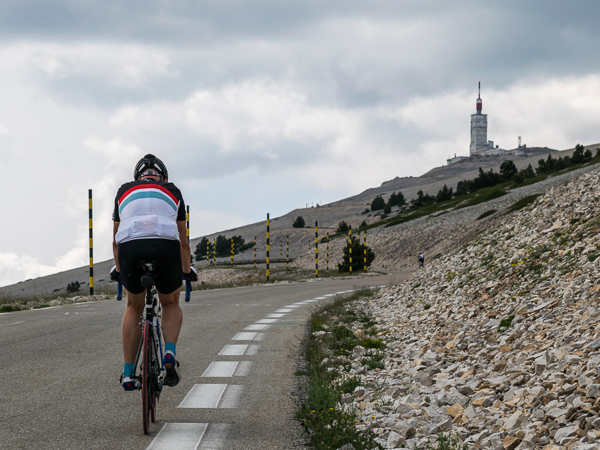 4-Day Cycling Weekend Itinerary through Provence
Each day we'll head out after breakfast at your hotel. Lunch (not included in the package) is taken at cafés / restaurants along the ride route. After each ride, there'll be time back at base to relax and unwind by the pool, before a 3-course evening meal taken at local restaurants.
Thursday – Arrival You arrange afternoon flights to Marseille Airport. Marseille has a range of flights from the UK – see full details on travel options here >>> Our airport pick-up is at 12:30 – transfer to your base in Bédoin is 1.5 hours. There'll be time to build bikes / set up hire bikes, before dinner is served.
Friday – Gorges de Nesque loop ride A gentle climb around the base of Mont Ventoux takes us to Sault where we pause for coffee before descending the amazing Gorges de Nesque. A stunning ride in spectacular scenery, we have one more climb to Blauvac before we ride back to Bédoin. Ride distance = 82 km with total climbing of 1417m
Saturday – The Big One – Mont Ventoux Follow the classic Tour de France route – ride from the hotel through the trees to Chalet Reynard before embarking on the open and exposed climb to the summit. After a fabulous descent to Sault for coffee, we will head to the stunning village of Montbrun-les-Bains for some lunch. The ride then takes us around the back of the 'Geant' along the valley to the last of the Ventoux villages, Malaucene. The option to ride on back to the hotel or hop in the van to finish the day. Ride distance = 108 km with total climbing of 2617m
Sunday – the 'Tour de Luberon' ride One of the most picturesque rides we know – taking in the hilltop villages of Gordes, Rousillon, Ménerbes and Lacoste as well as the Col de Murs and the gorges of the Mountains of the Vaucluse. We drive to the start, but those feeling fit can ride on all the way back to base. Ride distance = 79 km with total climbing of 1683m
Monday – Dentilles de Montmirail – Departure Taking in the villages of Crillon-le-Brave and Beaumes le Venise we soon find ourselves in the heart of wine country and riding through Vacqueras and Gigondas. We climb up to Suzette for lovely views out in all directions, before we drop back to Maulecène and our lovely ride back up and over the Col de la Madelaine to Bédoin. Ride distance = 61 km with total climbing of 1420m After lunch we need to pack up the minibus in readiness for a 15:00 departure which will get us to Marseille for 16:30 (so good for flights departing after 18:30)
Please Note The itinerary outlined is provisional, although it's a very typical outline of the routes you will ride on a 'Classic' break. On rare occasions, we may have to modify this programme due to weather conditions, group ability, roadworks etc.
Hôtel La Garance – at the base of Mont Ventoux
La Garance is a peaceful retreat hidden beneath Month Ventoux, in stunning surroundings, including open views across to the iconic mountain itself.
You will receive a warm and friendly welcome, with a high level of personal service offered by Joanna and her team.
The hotel is very much geared up for cyclists, who pass by throughout the day on their way up and down Ventoux, helping to build your own excitement and anticipation for what's to come.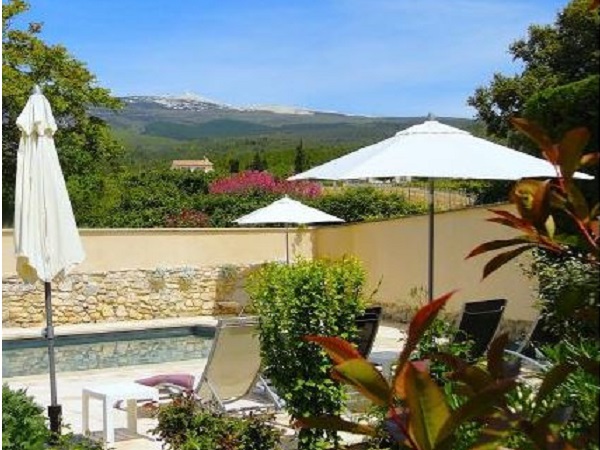 The hotel itself is an old Proven
ç
al farm building, surrounded by olive groves, vineyards and cherry orchards.
It really is an idyllic setting, and you'll get plenty of opportunity to take a dip in the pool or relax on the shady terrace, taking in the sounds, sights and smells of the South.
Hôtel La Garance has 16 tastefully furnished rooms; these are mainly twin / doubles, with a small number of larger rooms catering for up to 6 people available.
Please note that, depending on availability, on some trips we may use other accommodation in the town. All of these locations are chosen for their friendly welcome and service, and their charming character as well as a convenient location.
Hôtel La Garance Food and Drink for Cyclists
All Bike Weekender breaks include half board – a hearty breakfast and 3-course evening meal every night. Breakfast is a continental buffet with hot option, served from 0730 each morning to set you up for the day's riding.
Hôtel La Garance doesn't have its own restaurant, so dinner is taken at 2 local restaurants within 50m of the hotel. Both of these feature lovely outdoor terraces and superb food.
Expect lots of great local produce and fresh fruit and vegetables from the market – plus of course the local Côtes du Ventoux rosé wine to wash things down.
A set dinner menu at each of these restaurants is included in your package. Ordering à la carte is possible, with additional costs payable directly to the restaurants.
Wine and additional drinks from Hôtel La Garance or the restaurants are purchased on an individual basis, again payable directly. Find out more about Hôtel La Garance and see more images here >>>
Dates and Prices for Road Cycling Breaks – Provence / Ventoux
All prices are per-person, based on 2 guests sharing a room. Contact us for details of single occupancy options.
| Start Date | Price |
| --- | --- |
| COMING SOON! | |
NB – We do require a minimum number of 4 people to operate this trip – but once we have reached 4 people then its all confirmed and open. See Dates and Prices for current status.
For groups of 6 people we can look to run this trip on any date. Please contact us to discuss the options.
Bike Weekender 'Classic' Packages Include
Ensuite Hotel Accommodation
Airport Transfers from Marseille – meet 12:30
Airport Transfers to Marseille – depart 15:00
Half-board – cyclist-friendly food
Vehicle support on every ride
The support of our professional, friendly team
Not Included in the Package Price
Flights to Marseille – arranged independently. See here for full details >>>
Bike Hire – quality full carbon bike options available. See here for full details >>>
Lunches whilst out riding – bought directly
Wine and other drinks from the hotel bar & restaurants – payable directly
Interested in a Road Cycling Break in Provence / Ventoux?
If you'd like to join one of the 'Classic' breaks above, just send through our booking form here >>> we'll be in touch by email shortly.
Alternatively, if you are interested in a 'Custom' road cycling break please contact us here, call us on +44 845 557 5983 or email info@bikeweekender.com
Looking to book a 'Classic' Provence / Ventoux break?
Just email us at info@bikeweekender.com , call us on +44 (0) 845 557 5983 or