How to adjust your bike's rear derailleur
A bike's derailleur (sometimes spelled derailer), makes it possible to shift gears. Simply, this device pushes a chain from one cog to another. Adjustment of the rear derailleur is sometimes necessary to maintain fast, accurate, and reliable shifting across the cassette.
On newer derailleurs the limit stop screws are marked "H" and "L". The high set stop screw – marked with an "H" – takes care of shifting into higher gears (smaller sprockets), while the low set stop screw – marked with an "L" – takes care of the shifting into the lower gears (larger sprockets).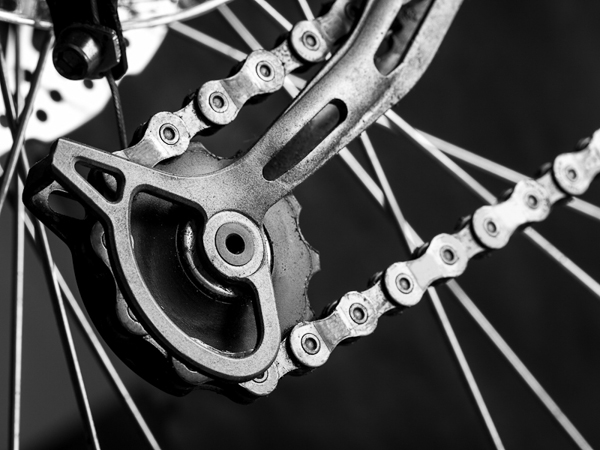 Checking the derailleur
Start by checking the cable for any wear or rusting. Shift the rear derailleur to the highest gear, or the smallest cog. The cable tension should be slack at this point, and you could in fact have the cable disconnected to make this adjustment.
Adjust the cable tension so that as you shift up a gear, the chain moves to the next cog. Adjust this at the derailleur, and tighten or loosen the barrell adjuster as needed to get it to shift. If your cable was loose here, please cinch it now to tighten it to the derailleur.
Next, try to keep increasing the cable tension to get the chain to go to the largest cog by shifting your indexed or (grip shift) right hand shifter.
Set the "L" limit screw so that the chain goes onto the largest sprocket, but not to the inside of it. Try to line it up visually so the teeth line up in the middle of the largest cog and set the limit accordingly. Tighten the screw to keep it from going out too far.
Check your adjustments by alternately shifting back and forth from high to low gears, and seeing that it shifts smoothly, and does not go too far at each limit.