How to clean a bike chain
Bike maintenance
Keeping your bike chain clean can help to improve both cycling performance and the longevity of your drivetrain.
It can be a messy, complicated process, but if you don't have the time to remove and soak the chain, there are some short cuts you can use to keep your chain sparkling and gunk free.
It might go without saying, but it's probably best to move your bike outside before you begin to clean the chain!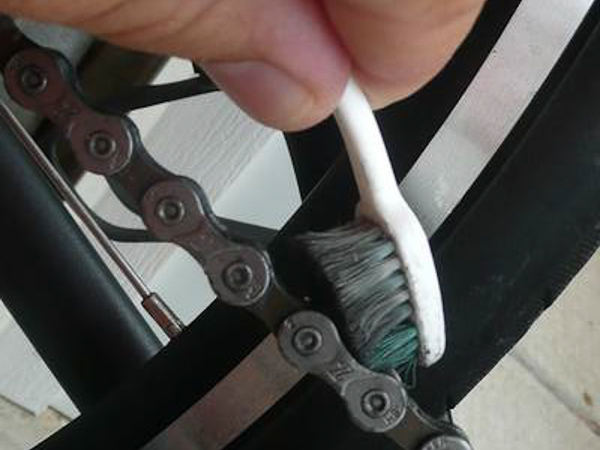 A quick way to keep your bike chain clean
Lean your bike against a wall or chair so that you have both hands free. Turn the pedals and shift the gears so that the chain is on the largest ring at the front and the smallest sprocket on the back. Apply degreaser to the chain while at the same time slowly turning the pedals so that the degreaser is applied to the whole of the chain. Work through the chain in small sections, wiping off grease with the cloth.
Continue until you've applied degreaser and wiped down the whole chain, a section at a time. Repeat a couple of times until no more grease comes off on to the cloth when you wipe the chain.
A number of brands manufacture specific chain cleaning tools to make the job more straightforward – Park Tools Cyclone Chain Cleaner is particularly efficient used alongside Park Tools Citrus chainbrite cleaner.
You'll need the following:
A cloth, old towel or rag
A solvent such as WD-40 or isopropyl alcohol – canisters with straw spray attachments are ideal
An old toothbrush
To really reach the nooks and crannies of the chain, dip the old toothbrush in the degreaser and work between the links of the chain. As before, slowly turn the pedals backwards, and scrub each link from every side.
Once your chain is restored, it's worth taking a few minutes to clean the other parts of the drivetrain. With a clean part of your cloth, wipe down the chain rings in the front and the sprockets at the back, as well as the jockey wheels on your rear derailleur.
The final step is to wipe down your frame to clean off any dirt or grease that may have splashed onto it whilst you were cleaning the chain.
When your bike looks great, you're ready to ride!