Fully-Supported Weekend for
the Etape du Tour 2018
Etape du Tour 2018 – a Fully-Supported Long Weekend Break
The Etape du Tour needs little introduction as Europe's benchmark cyclo-sportive event.
Now in its 28th year, this sporting challenge recreates one of the key stages of the Tour de France each year, allowing amateur riders to experience being part of a peloton of 15,000 along closed roads raced on by the Tour de France.
This year's Etape passes right by our door, so if you dream of riding some of the same tarmac as your heros, you've come to the right place.
The Lake Annecy – Aravis region in the northern French Alps is a fantastic cycling destination; frequently featuring in the Tour de France, often hosting the Étape du Tour and also playing host to the Criterium du Dauphiné.
Join our dedicated team on our L'Etape du Tour weekend break and ride the Etape with us.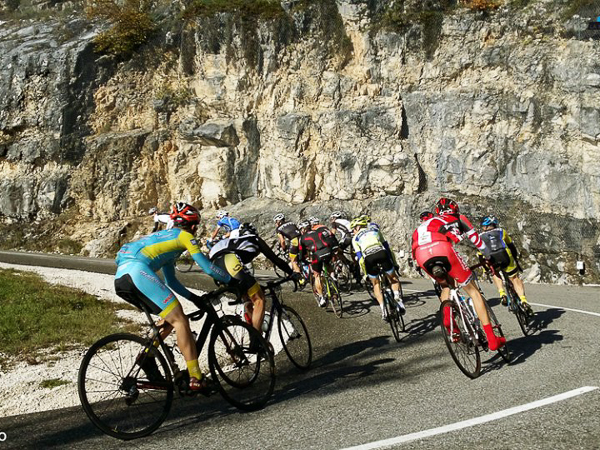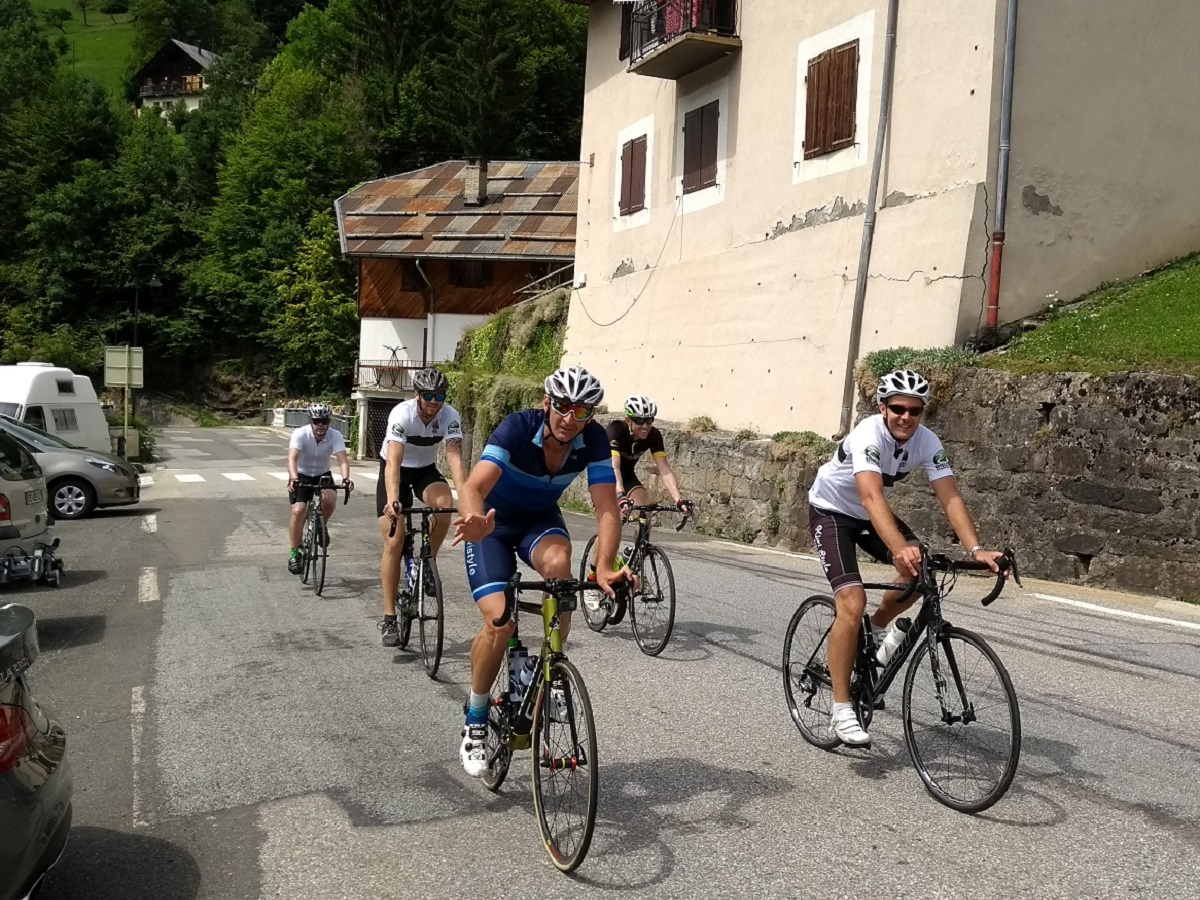 Our experienced, professional team will take care of all the logistics and support over the weekend, so that you can enjoy the experience that surrounds the world's premiere cyclo-sportive event, along with some fantastic riding in the beautiful Aravis region.
During Friday and Saturday you can put in some warm up rides to familiarise yourself with the area and pick up tips on climbing, pacing, descending, nutrition and all the other skills essential to do well at a mountain sportive before joining 15,000 others for the ride on Sunday.

Our Dedicated Cycling Base – Lake Annecy / Aravis Mountains
Our main base-camp for your supported weekend break Etape du Tour cycling holiday is the Aravis Lodge, in Saint Jean de Sixt: the home of Bike Weekender. A charming Alpine farming village in the heart of the Aravis Mountains, yet only an hour's transfer from Geneva airport, its location ensures varied cycling is possible with minimal hassle.
It's a sociable chalet-hotel, offering great food, on-site bike hire and a high level of personal service from our resident team, helping to make this a trip to remember for a long time to come!
Click on the tabs above to see more details of the itinerary, accommodation options, what the package includes and pricing.
Etape du Tour 2018 – 3 and 4-day 'support and ride' package
Thursday 5th – Monday 9th July 2018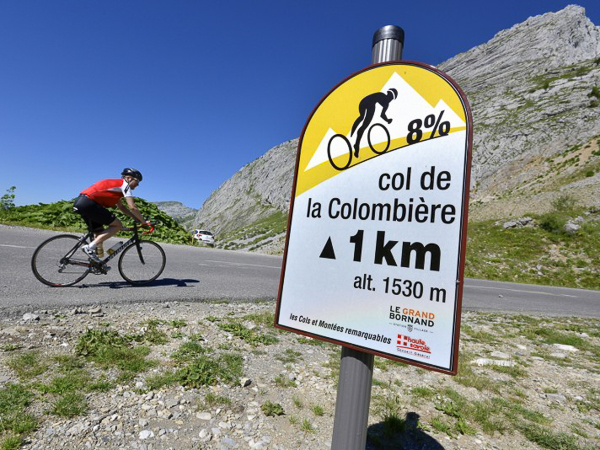 From Thursday 5th of July to Monday 9th of July 2018 we'll be running a special Bike Weekender break at the Aravis Lodge to support you through your Etape du Tour weekend.
We will take care of the logistics to allow you to focus on preparing for the event, and enjoy the experience that surrounds the world's premiere cyclo-sportive event, along with some fantastic riding in the beautiful Aravis region.
This 3 or 4-day break has a very short airport transfer from Geneva, and full vehicle support, whether that's for
your training ride, getting you and your bike to Annecy to register and also for the sportive itself, enabling you to arrive at the start of the event in the best shape possible.
Our base in the Aravis is only two kilometres from the event finish in Le Grand Bornand, making it the ideal and convenient location to return to after the challenge, to wind down and celebrate with other Bike Weekender guests taking part in the Etape.
Our experienced and knowledgeable team, some of which have also participated in previous editions of the Etape, will be on hand throughout the weekend to help you set up your bikes, mark up and support you on our proposed 'warm up' ride itineraries, and share their extensive knowledge of the area with you.
We will be there to support you with the logistics over the weekend, from getting you and your bike up from the airport and getting set up, to registering at the Etape village and receiving your start pack, to getting you to the start line on the Sunday morning.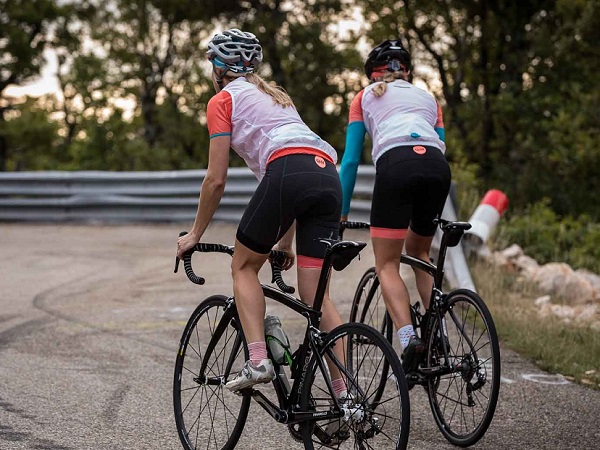 o
---
o
3 and 4-day 'Support & Ride' Weekend Itinerary
Thursday 5th July – Arrival
You arrange afternoon / early evening flights to Geneva Airport.
Geneva is well served with flights from the UK – see full details on travel options here >>>
Our airport pick-ups are at 1730 and 2145 – transfer to your base is only 1 hour.
For those on earlier flights, there'll be time to build bikes / set up hire bikes, and maybe go for a quick ride to stretch the legs, before a 3-course dinner is served.
Friday 6th July – Easy Recce / Training Ride
An recce ride around part of the route, to see some of the climbs and descents, as well as to get you acclimitised to the Alpine conditions.
Time to refresh and relax, before a 3-course dinner at your chosen accommodation.
For those taking the 3-night option – our Friday airport pick-ups are at 1730 and 2145. Transfer to your base is only 1 hour.
Saturday 7th July – Annecy Ride and Event Registration
A spectacular ride with amazing views across Lake Annecy and the surrounding mountains from the top of the Col de la Forclaz. From there, you will then drop down to Talloires and ride round the lake via Duingt, into the beautiful medieval town of Annecy, where you can register for the Etape du Tour and soak up the atmosphere in the Etape village.
We will then give you a lift back up to your accommodation, to save your legs for the big event.
Time to refresh and relax, before a 3-course dinner at your chosen accommodation.
Sunday 8th July – Stage 10 – Annecy to Le Grand Bornand
We will take you and your bike from your accommodation down to the start village in Annecy. As well as benefitting from the official Etape feed stations on route, our guests will also enjoy exclusive access to our own feed station, just for our guests.
Once you have completed the challenge and enjoyed the atmosphere in the finish village of Le Grand Bornand, our guests will enjoy a special Etape du Tour 2018 fully inclusive BBQ party at the Aravis Lodge.
Monday 9th July – Departure
Depart for Geneva Airport – transfers leave base at 1200 (for flights departing after 1500) and 1730 (for flights departing after 2030). There will be the opportunity for a recovery ride for anyone with the energy after what is guaranteed to be a challenging day in the saddle!
Please Note
The itinerary outlined is provisional, and on rare occasions, we may have to modify this programme due to weather conditions, group ability, roadworks etc.
Accommodation options for the Etape du Tour Short Break
Please see the individual hotel information below for further details.
You can find out more about our Inclusive Package, and the prices for each hotel on the Dates / Prices tab.
---
The Aravis Lodge, St Jean de Sixt
The Aravis Lodge is set up to cater to all your cycling needs, and yet is only 2.5km from the heart of Le Grand Bornand where the race will finish, as well as being en route to Annecy for the event registration and race start.
The Aravis Lodge has 18 ensuite bedrooms, all fully renovated in a fresh, contemporary style, including 2-person twin / double rooms, plus larger family rooms which sleep up to 4 in twin / double beds and an adult-sized bunk bed.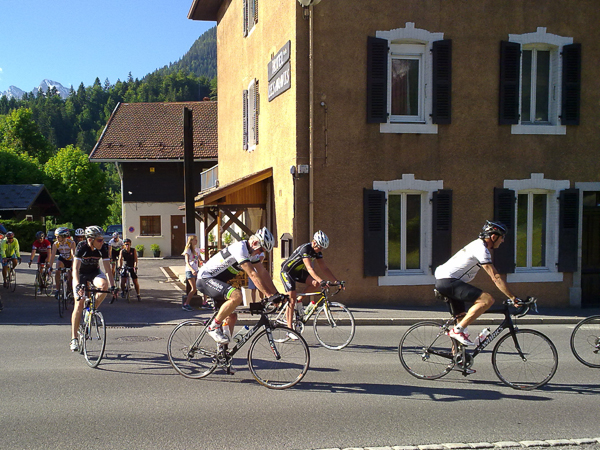 The Lodge has a large dining and breakfast room, with tea and coffee available throughout the day. It also has a large, sunny lounge with comfy sofas, a smaller TV room with English satellite TV and DVD player, and a large licensed bar.
The bar has draught beers (Kronenbourg and Guiness) on tap along with a wide range of spirits, bottled beers and soft drinks, as well as a TV, where you can watch the closing KMs of that day's Tour de France stage if you wish.
On the basement level you will find the secure bike room and workshop. There is also a fully equipped gym and fitness room with CV and weights machines – in case you haven't had enough exercise already – as well as a modern sauna and massage room. Massages are available to book on request, and are payable locally.
Meals are on a half-board basis and include breakfast, afternoon tea with cake, and a cyclist-friendly 3-course evening meal with red and white wine included.
In addition to the standard package available at each of our hotels, we will also have a bike mechanic on hand at the Aravis Lodge throughout the duration of this break, to assist with any last minute technical tweaks required.
We also have a dedicated and experienced bike team onsite the whole time, who can advise on anything from nutrition, climbing, descending or to give you tips on how to best tackle the route ahead. We ride these roads all of the time, so we can give you true insider information!
We are a cyclists' hotel, so we're all geared up to support you in every way.
Plus, after the Etape, we'll be hosting the after-event BBQ party, so you only have to stagger upstairs to your room after a long and exciting day.
Find out more about the Aravis Lodge in the Northern French Alps here >>>
0
---
0
Hotel Les Glaieuls **, Le Grand Bornand
The hotel has 19 ensuite bedrooms with a real 'mountain' atmosphere, and are equipped with a telephone and TV. Many of the bathrooms have been recently renovated.
Hotel Les Glaieuls, which is set back off the road, becomes a lovely peaceful and quiet place to spend your evening in the cosy lounge or in the bar, and meet fellow outdoor enthusiasts. Ask us about their limited single room options.
It also benefits from being an easy 5-minute flat walk to Le Grand Bornand village centre, where you can enjoy the local shops and bars.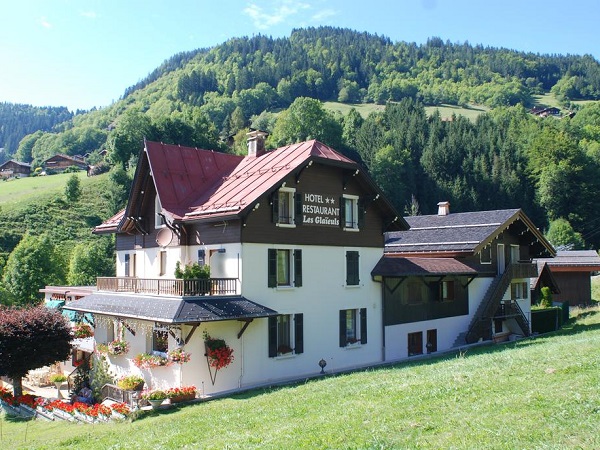 The dining room is designed so that you can take in beautiful mountain views over dinner, and the restaurant is highly rated for its excellent food and high level of service.
You can enjoy regional wines and dishes made with locally sourced produce. Catering is on a half-board basis, with a continental breakfast buffet and a 3-course evening meal included.
0
---
0
Hotel La Pointe Percèe **, Le Grand Bornand
A traditional Sayoyard hotel right in the heart of Le Grand Bornand, Hotel La Pointe Percée has 20 bedrooms with fantastic panaoramic mountain views, and is conveniently positioned for easy access to the village and everything the resort has to offer.
It offers a comfortable quality of rooms and accommodation with superb, friendly service. This hotel is also perfect for solo travellers, as there are a small number of rooms which can be booked without a single supplement if you prefer.
Catering is on half-board basis – the buffet breakfast is taken in the hotel dining room, whilst the restaurant is downstairs for dinner. Each evening you can enjoy a menu that includes local specialities.
0
---
0
Hotels Les Écureuils ***, Le Grand Bornand
Les Ecureuils is a charming family-run chalet-hotel that is located only few meters from the centre of Grand-Bornand. It offers a sauna and a seasonal swimming pool with massage jets.
Guestrooms can accommodate up to 4 guests. They all have satellite TV and a balcony that offers a view of the mountains. The restaurant at Les Ecureuils serves Savoyard specialties and homemade desserts. Meals can be enjoyed on the terrace overlooking the garden in the summer months.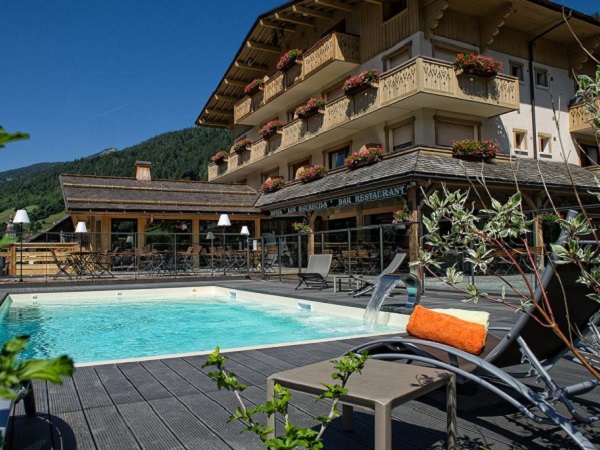 For your leisure time, a pool table is available as well as a foosball table, a lounge featuring satellite TV, games, magazines, etc., and a fitness room. Catering is on a half-board basis with continental breakfast buffet and 3-course evening meal.
0
---
0
Hotel Alpen Roc ***, La Clusaz
La Clusaz is a popular resort just 2.5km from our base at St Jean de Sixt, and 5km from the centre of Le Grand Bornand, where the Etape du Tour finishes.
Located at the foot of the Aravis mountains, it has stunning views.
Hotel Alpen Roc is built in a traditional Savoyard style just a 2-minute walk from the centre of the village. The contemporary rooms have a modern private bathroom, satellite flat-screen TV and free WiFi access.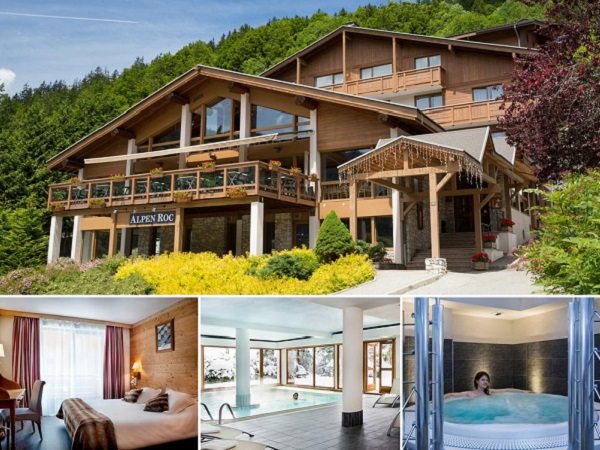 Breakfast and dinner are prepared on site using fresh local produce, and the fully inclusive package includes all drinks (beer, wine & spirits) and coffee / snacks. Meals are served in the dining room, where you can enjoy the panoramic views over La Clusaz.
Guests can also relax in the hotel's bar, which features a central fireplace and exposed beams. There is also a pool table for guest's use. You have free access to the spa, with a heated swimming pool, jacuzzi, sauna and a steam room. There is a 24-hour reception and bike storage facilities.
0
Etape du Tour 2018 – 'Support & Ride' cycling weekend package
Thu 5th or Fri 6th July to Monday 9th July 2018
[table "38" not found /]
[table "39" not found /]
All prices are per-person, based on 2 guests sharing a room. Contact us for details of single occupancy options.
Inclusive package includes:-
Transfers to / from Geneva Airport
Ensuite accommodation in double/twin/triple or quad rooms
Cyclist-focused breakfast and hearty 3-course evening meal
Full route and logistical support, before and after the event
Local insider knowledge – we live and cycle here ourselves!
Transport for you and your bike to start of event
Our own basecamp in the finish village
Etape du Tour BBQ party on the Sunday after the race
The dedicated service of our professional, friendly team
Not included in the package price:-
Flights to / from Geneva – arranged independently
Etape Event entry is not included in our Package
Quality Scott road bike hire – can be arranged with us
Lunches whilst out riding – bought directly
Additional drinks from the hotel bar
Entry to L'Etape du Tour Sportive, which is now sold out
---
Airport Transfers
For Arrivals from Geneva Airport
Arrive on Thursday 5th July or Friday 6th July at Geneva Airport, by either 1730 for the first pick-up, or 2145 for the second.
For Departures from Geneva Airport
Monday 9th July – departing at either 1200 (which is good for flights from 1500 onwards), or 1730 (which is good for flights from 2030 onwards).
---
Booking Process
Sign up using the booking form below. (NB – You must already have a confirmed place on the Etape secured, as they are now sold out)
Pay a deposit of £150pp once your reservation has been confirmed by email
The remaining balance will be due 6 weeks prior to the trip
If you'd like to join us on this special Etape du Tour 2018 3 or 4-day cycling package, just click on the button below to access the booking form and we'll be in touch by email shortly to confirm your reservation.
If you have any questions about any aspect of our road cycling holidays, our package, accommodations or the areas we operate in, just send through an enquiry form here, call us on +44 845 557 5983 or email info@bikeweekender.com
Etape du Tour 2018
3 and 4-day 'support & ride' cycling packages
Questions about the Etape du Tour 2018 holiday package?
Just email us at info@bikeweekender.com , call us on +44 (0) 845 557 5983 or