La Grand Bo – Haute-Savoie Mountain Cyclosportive
Saturday 23rd June 2018
There is a long tradition of road racing in France, so it's not uncommon to come across a cycling event on any given weekend, particularly during the summer months.
Our most local event, 'La Grand Bo' takes place around the last Sunday in June and gives riders the opportunity to 'race' up some of our local cols, made famous by the Tour de France.
Whether you want to pit yourself against some very competitive locals, or enjoy a ride around some amazing terrain with likeminded companions, why not give our local event a crack?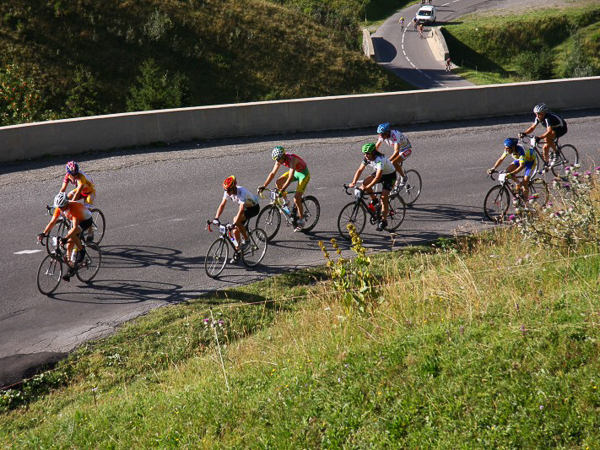 La Grand Bo Sportive – 4 Night Bike Weekender Special Package
From Thursday 21st of June to Monday 25th June 2018 we'll be running a special Bike Weekender break at the Aravis Lodge to allow you to take part in this event.
All Bike Weekender trips include:-
Airport transfers
Bike friendly en-suite accommodation
Fully catered with great cycling food
Full route guides & support
Quality road bike hire available
Join our La Grand Bo weekend break Thu 21st – Mon 25th June 2018 and ride La Grand Bo sportive with us.
You can put in a warm up ride on Friday to familiarise yourself with the area and pick up tips on climbing, pacing, descending, nutrition and all the other skills essential to do well at an Alpine sportive, before joining the Peloton early on Saturday to ride around some spectacular scenery in a competitive environment.
Use Sunday and Monday as recovery rides to further explore some of our favourite rides, before heading home for a well earned rest!
If you would like to experience the atmosphere of riding in a French Cyclo-Sportive first hand, why not join us for a weekend of fabulous cycling, culminating in a 'competitive' timed ride along with 600 other cycling enthusiasts through some magnificent scenery- and have some great fun to boot!