La Grand Bo 2019 – Cyclosportive
Sunday 30th June 2019

There is a long tradition of road racing in France, so it's not uncommon to come across a cycling event on any given weekend, particularly during the summer months.
Our most local event, 'La Grand Bo' Sportive takes place around the last Sunday in June in Le Grand Bornand, just down the road from our home base, giving riders the opportunity to 'race' up some of our local cols, made famous by the Tour de France.
Whether you want to pit yourself against some very competitive locals, or enjoy a ride around some amazing terrain with like-minded companions, why not give our local event a crack?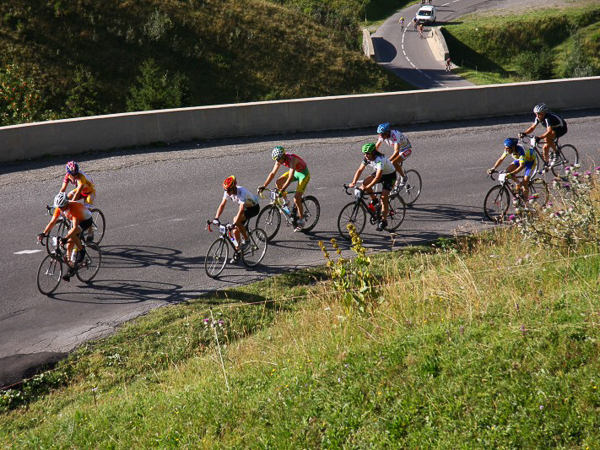 See below for full details of the event, the routes and how to enter.
La Grand Bo Sportive – 4-Day Bike Weekender Special Package
We'll be running a special Bike Weekender break at the Aravis Lodge to allow you to take part in this event.
All Bike Weekender trips include:-
Airport transfers
Bike friendly en-suite accommodation
Fully catered with great cycling food
Full route guides & support
Quality road bike hire available
Join our La Grand Bo weekend break and ride La Grand Bo sportive with us.
You can put in a warm up ride on Friday to familiarise yourself with the area and pick up tips on climbing, pacing, descending, nutrition and all the other skills essential to do well at an Alpine sportive, then on Saturday you can complete your registration and pick up your bib in Le Grand Bornand soaking up the pre-event atmosphere, before joining the Peloton early on Sunday to ride around some spectacular scenery in a competitive environment.
Use Monday as a recovery ride to further explore some of our favourite rides, before heading home for a well earned rest!
If you would like to experience the atmosphere of riding in a French Cyclo-Sportive first hand, why not join us for a weekend of fabulous cycling, culminating in a 'competitive' timed ride along with 500 other cycling enthusiasts through some magnificent scenery – and have some great fun to boot!
You can read more about this weekend break here>>>
'La Grand Bo' Sportive – Full Details
La Grand-Bo is a traditional cyclosportive event organized by the Vélo-Club du Grand-Bornand, and is open to cyclists 18 years and over, licensed or not. This event registered in the Haute-Savoie Cyclosportives Challenge brings together 500 amateur competitors eager to compete over some of the most beautiful roads in the region.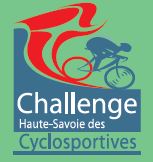 In 2019 it will feature 2 circuits of different lengths, plus new for this year is an event called La Randonnée which is open to those aged 16 and above, plus riders on e-bikes, which makes it a much more inclusive event for anyone who wants to experience the thrill of a mass participation ride in these stunning mountains.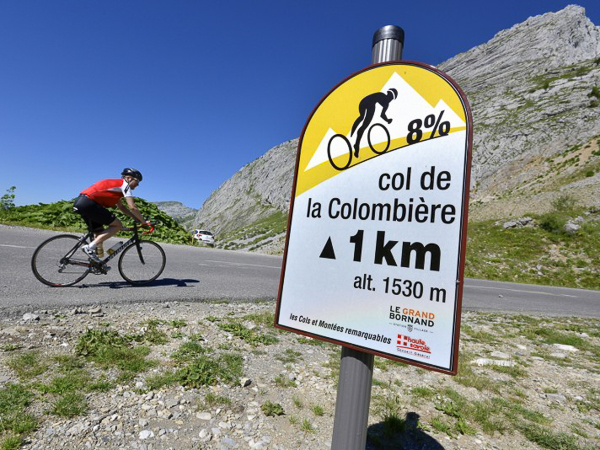 Petit Circuit – 63km with 1660m vertical
Leaving from Le Grand-Bornand in the direction of Saint Pierre in Faucigny, the route then climbs to Mont Saxonnex, continues through Le Reposoir and the ascent of the well-known Col de la Colombière before descending back to the village of Le Grand-Bornand. This leg stretcher may be relatively short but it certainly has a sting in the tail.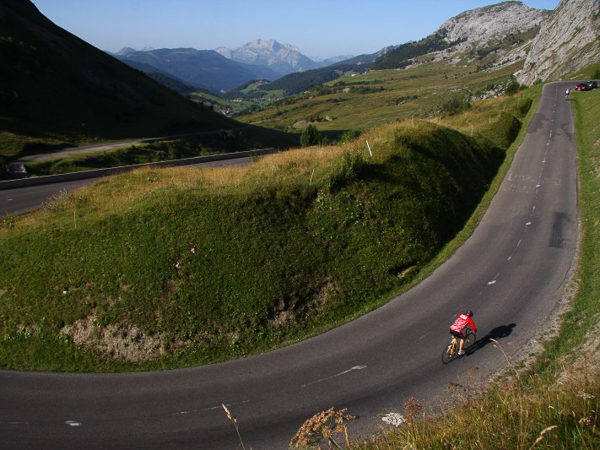 Grand Circuit – 110km with 3213m vertical
Climbing the Plateau de Glieres, the Col des Fleuries, Mont Saxonnex, the impressive Col de Romme and finally the Col de la Colombière, this serious ride with challenging climbing takes in the last 110kms of 2018's Etape du Tour.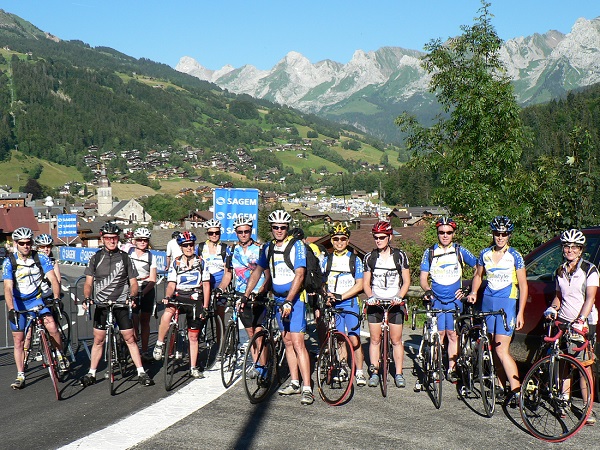 La Randonnée – 77km with 1325m vertical
This circuit of 77km, 1325 m of elevation will go through Thônes, Naves Parmelan, Aviernoz, then ascend Col des Fleuries and will return to Le Grand-Bornand through the pretty village of Petit-Bornand along the beautiful gorge road.
Tickets for the La Grand Bo Sportive are €38 and the Randonnée are €25.
Your entry into the event isn't included in your Bike Weekender package and will need to be booked independently by you here >>>
Map of Circuits and Route Profiles
(Click on images below to enlarge)
Saturday 29th June 2019
From 14:00 to 18:00: register and collect your bib at the tourist office in Le Grand-Bornand village.
Sunday 30th June 2019
06:00 to 07:30: Espace Grand-Bo hall – reception and collect bib numbers
07:30 to 07:50: check and access start area
08:00: start of the Grand and Petit races
08:10: start of La Randonnée
11:00: first competitors arrive at the finish
12:00: start of lunch for race finishers (Espace Grand-Bo – €12)
14:30: award ceremony and prize draw
Interested in taking part in La Grand Bo Sportive?
Just email us at info@bikeweekender.com , call us on +44 (0) 845 557 5983 or