Hôtel La Garance, Bédoin
An authentic Provençal hotel at the foot of Mont Ventoux
Hôtel La Garance, Bédoin
'Classic' and 'Custom' Holidays are available at this wonderful location in Provence, close to Mont Ventoux and other iconic cols
Cycling-friendly hotel
Bike storage facilities
Great riding straight from the hotel
Our team on hand to help throughout
Bike hire available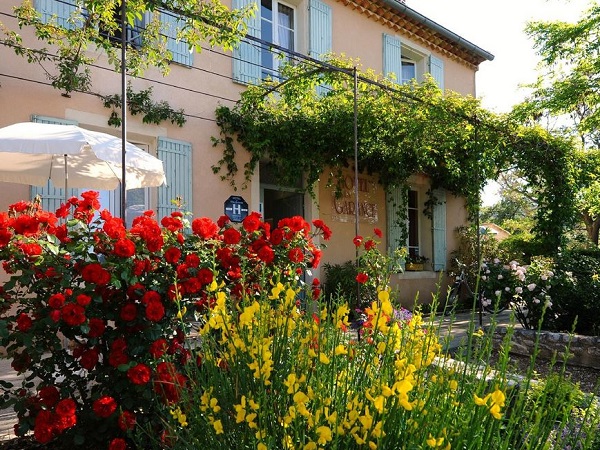 Hôtel La Garance – in the heart of cycling country
La Garance is a biking haven, set in stunning Provençal countryside. You will love the friendly welcome and personal service offered by Joanna and her team.
Whether relaxing on the terrace or by the pool, you are surrounded by views of Ventoux and the beautiful landscape all around. Cyclists pass by all through the day on their way up and down Ventoux, so you'll feel like you are truly in the heart of cycling country.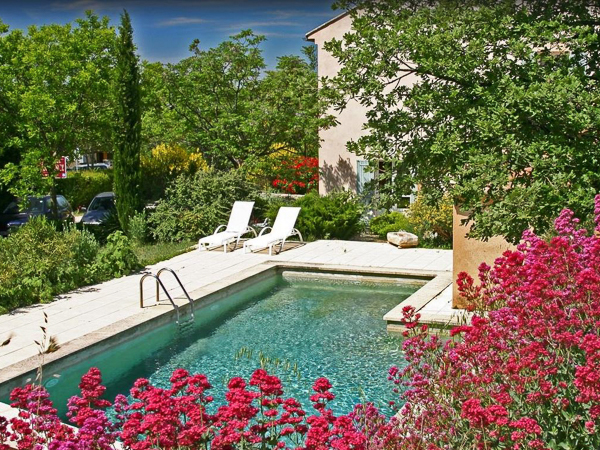 The hotel itself is an old Proven
ç
al farm building, surrounded by olive groves, vineyards and cherry orchards.
It really is an idyllic setting, and with high chances of hot, sunny weather it's likely you'll be spending most of your time back at base outside by the pool or relaxing on the shady terrace, taking in the sounds, sights and smells of the South.
Please note that, depending on availability, on some trips we may use other accommodation in the town. All of these locations are chosen for their friendly welcome and service, and their charming character as well as a convenient location.
Find out more about the Bike Weekender 'Classic' road cycling holidays available here >>>
Perfect for Mont Ventoux
A well-located hotel set in a restored farmhouse, surrounded by vineyards and olive trees, with a view of Mont Ventoux.
Ensuite rooms, some with access to the terrace
Breakfast on the sunny terrace
Swimming pool with sun loungers
Massage therapists available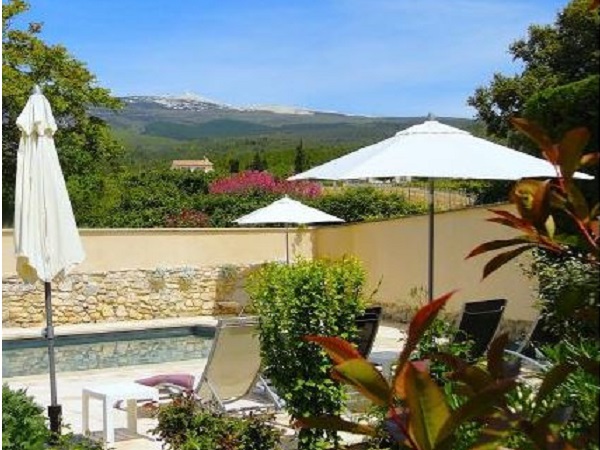 Hôtel La Garance – Rooms
There are 16 bedrooms, each catering for between 2-6 people, decorated in a calm and relaxing style. They all have a private ensuite bathroom fitted with a bath or a shower, and complimentary toiletries are provided. The guest rooms also include a flat-screen TV, telephone, a work desk and a wardrobe. They all overlook Mont Ventoux, and some have access to the terrace. Free Wifi is available in every room.
Hôtel La Garance – Social Facilities
In addition to the sunny private terrace where breakfast is usually served, there is also a wonderful outdoor swimming pool, where you can cool down after your long ride, or simply relax in one of the recliners, and take in the spectacular view across to Mont Ventoux, as well the surrounding Provençal countryside.
You can also explore the little hamlet of Sainte-Colombe, and all it has to offer.
Hôtel La Garance – Food
A buffet breakfast with mainly organic products can be enjoyed in the breakfast room, or on the terrace on sunny mornings.
The hotel doesn't have its own restaurant onsite, so evening meals are taken just a short walk away at one of the two restaurants in Sainte-Colombe. Both of these feature lovely outdoor terraces and superb food. Expect lots of great local produce, including fresh fruit and vegetables from the market – plus of course the local Côtes du Ventoux rosé wine to wash things down.
A set dinner menu at each of these restaurants is included in your package. Ordering à la carte (off the main menu) is possible, with additional costs payable directly to the restaurants.
Wine and additional drinks from Hôtel La Garance or the restaurants are purchased on an individual basis, again payable directly.
Hôtel La Garance – Location
The hotel is located in a small hamlet called Sainte-Colombe, 4 km from the town of Bédoin, at the very base of Mont Ventoux, whose bare summit is an iconic image in Provence's varied landscape. It is also convenient for exploring the Luberon region, which features some of the best Provence has to offer.
Bike Hire
Bikes are available to hire locally if you wish.
For more details and full prices please see here >>>
Relaxing Massage
To recover and relax after your day in the saddle, the hotel works closely with a massage therapist who can offer you a well-deserved massage onsite. Details available on request.
Don't just take our word for it…
Word-of-mouth recommendations are important to us. You can see many reviews from guests who've stayed at the Hôtel La Garance on Trip Advisor here >>>.
Want to stay with us at the Hôtel La Garance... ?
Just email info@bikeweekender.com , call +44 (0) 845 557 5983 or