The Étape du Tour 2018 – Live the Legend, ride a Tour de France stage!
The Étape du Tour needs little introduction as Europe's benchmark cyclo-sportive event.
This sporting challenge recreates the queen stage of the Tour de France each year, allowing amateur riders to experience being part of a peloton of 15,000+ riders, along closed roads raced on by the Tour de France.
Details of the route for the Tour de France 2018 will be released sometime in October 2017, and the stage chosen for the Étape du Tour 2018 will be announced around the same time.
This could be your opportunity to live your own Tour de France dream!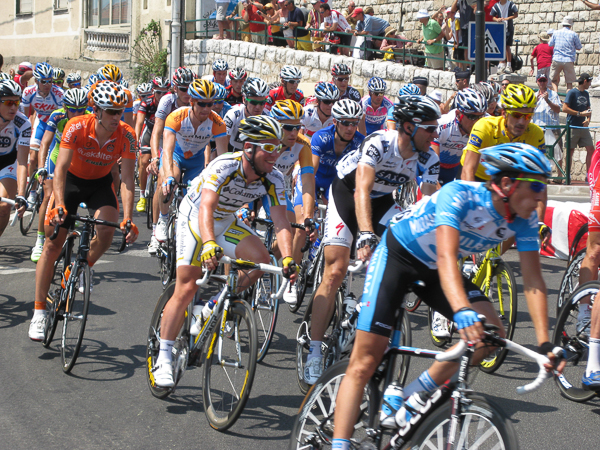 Whether next year's event is revealed as being a local Alpine stage accessible from our base here in the Aravis, or a stage further afield, our 'Classic' or 'Custom' package will be there to support you through this popular French sportive.
As soon as we have more information, we will publish details about the options available to you, so that you can experience the Étape du Tour 2018 for yourself – following in the tyre tracks of your favourite pro riders and being a part of this mythical event, all on closed roads, with a mass of fans cheering you on.
Ride the Étape du Tour 2016 route – 4 night Bike Weekender Classic and Custom Packages
In the meantime, do you want to test yourself on a Tour de France stage to see how well you can do? Or don't fancy all the hassle associated with riding with 15,000 other riders? Our Northern Alps base is the ideal location to test yourself on the route used for the 2016 Étape du Tour, riding from Megève to Morzine.
All Bike Weekender trips include:-
Airport transfers
Bike friendly en-suite accommodation
Fully catered with great cycling food
Full route guides & support
Quality road bike hire available
Join any of our 'Classic' or 'Custom' long weekend breaks and ride the 2016 Étape route with us.
During Friday and Saturday you can put in some warm up rides to familiarise yourself with the area and pick up tips on climbing, pacing, descending, nutrition and all the other skills essential to completing a gruelling mountain stage of the Tour de France on the Sunday. All this, yet still with only 2 days off from work!
If you have any enquiries about this, or any other aspect of our road cycling holidays in France, contact us here >>>