The Étape du Tour 2018 – A Fully Supported Weekend Package
The Étape du Tour 2018 will feature classic Alpine cols and is sure to be an amazing cyclo-sportive event.
This sporting challenge recreates a mountain stage of the Tour de France each year, allowing amateur riders to experience being part of a peloton of 15,000+ riders, along closed roads raced on by the Tour de France.
The Etape du Tour 2018 will take place on Sunday 8th July 2018 and will feature the stage from Annecy to Le Grand Bornand, passing right by the Bike Weekender home base.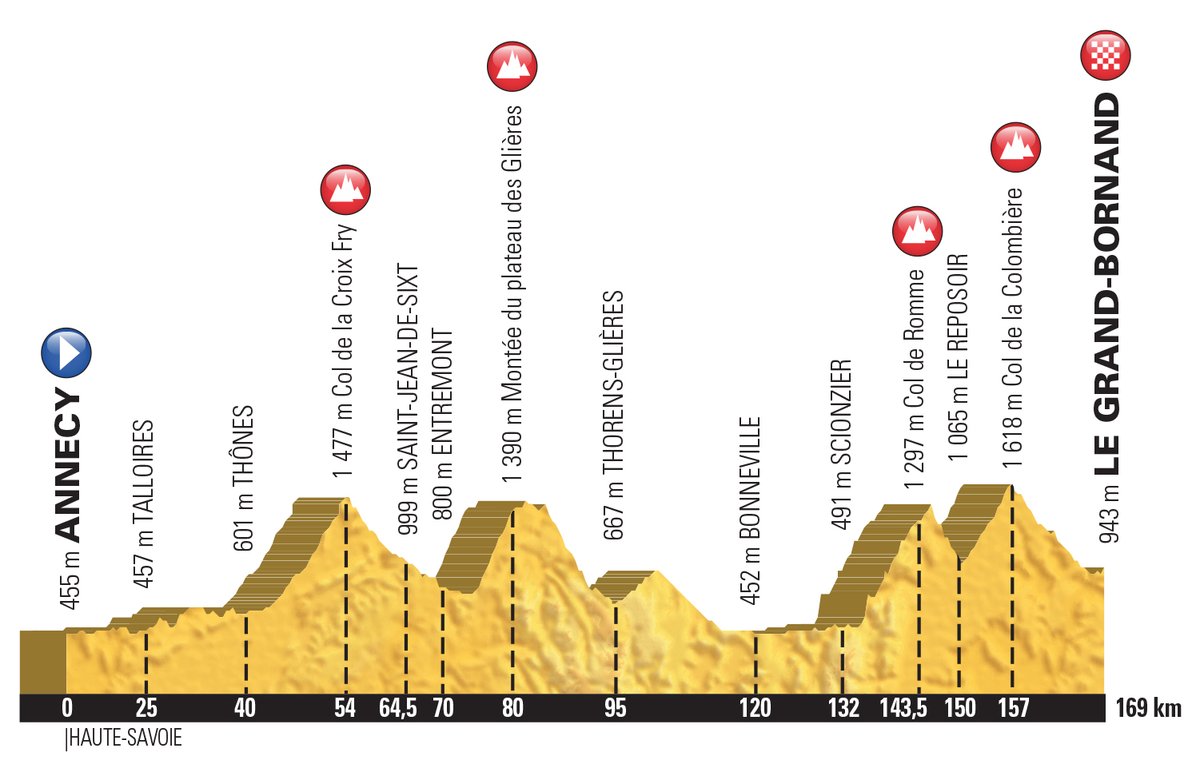 The stage will be 169km in length, and will finish with the Col de la Colombière before descending into Le Grand Bornand.
This includes 2km of gravel sections on Plateau les Glières and a rather punchy 12% climb from 6km to get there!
Read on to find details of the packages we are offering and how we can help you enjoy a hassle-free Etape du Tour 2018 experience.
However, if you missed out on a place for the Etape, or you would rather ride the stage in peace, without 14,990 or so other people, see the bottom of the page for our alternative options.
Whilst the Etape du Tour is a great event, it can pose some logistical challenges for the un-initiated.
Taking part in an event with 15,000 people is so much easier when you have a team of local experts on hand to organise everything and take care of the logistical details of getting you to and from the registration and the start of the event.
That's where we can help with our inclusive 3-day packages from £545pp, or the 4-day package from £595pp
Our Etape Special trip includes:-
Airport transfers from Geneva
Bike friendly en-suite accommodation
Fully catered with great cycling food
Full route & logistical support
Transport for you & bike to start of event
Insider local knowledge – we live here!
Our own basecamp in the finish village
After event Barbeque party at our base
Quality Scott road bike hire available
After arriving on Thursday we offer a gentle recce-ride on Friday to see some of the climbs and descents and to ensure you aclimatise to the Alpine conditions.
Saturday would feature a glorious ride around Lake Annecy and onto the Etape Village for registration. Soak up the thrilling atmosphere. We arrange secure bike storage and transport back to base to save your legs.
Sunday is the big day! We arrange transport for you and your bike to the start of the event. Then its all over to you for some awesome riding in stunning mountain scenery. After 150km join our "finish line basecamp" and soak up the cycling vibes – before continuing the party at our Barbeque party!
Monday would be an easy day, before heading back to Geneva!
Ride the Etape du Tour 2018 stage at your leisure
If you missed out on getting a place for next year's Etape, or would prefer to ride it some other time at your leisure, why not consider joining us for one of our Classic, Custom or Lite weekends instead.
Classic Package
Simply arrive at Geneva airport on the Thursday evening and we do the rest. We will collect you (and your bike if required) from the airport, provide you with comfortable ensuite accommodation, half-board catering including afternoon tea and wine with your 3-course evening meal, and a challenge-packed itinerary which will include vehicle-supported rides over many of the cols used in the Etape and made famous by the Tour de France. We'll take you back to the airport on Monday, ready for your late afternoon/evening flight back home, after an exciting weekend's riding. Find out more here >>>
Custom Package
The same benefits as the Classic package, except we work with you and your group to create a fully bespoke experience, which can include riding the entirety of the course the Etape and stage 10 of the Tour covers, or any other package completely tailored to your requirements. Find out more here >>>
Lite Package
For those who prefer a more independent cycling weekend, and who wish to plan your own itinerary, ride at your own pace and devise your own experience. This package still includes your airport transfers and half-board accommodation, plus support from our local team in helping you to plan out your itinerary, or offer any advice or guidance you might need for your trip. Find out more here >>>
Stage Preview
Before the winter settled in Annecy, Mavic took one of the last chances to get up to the mountains for a recon of the 2018 Etape du Tour. Join Frank Schleck, Nico Roux and some of the brave souls from Mavic as they take on this epic stage of the Tour de France.
Questions about the Etape du Tour short break?
Just email us at info@bikeweekender.com , call us on +44 (0) 845 557 5983 or