The Etape du Tour sportive event recreates a mountain stage of the Tour de France each year, allowing amateur riders to experience being part of a peloton of 15,000+ riders, along closed roads raced on by the pros of the Tour de France.
Details of the route for the Tour de France 2019 will be released in mid-October 2018. The stage chosen for the Etape du Tour 2019 will be announced at the same time.
Once the stage is known we will be able to confirm full details of what we can offer for this weekend, depending on where it will take place.
The Etape du Tour 2018 route profile from Annecy to Le Grand Bornand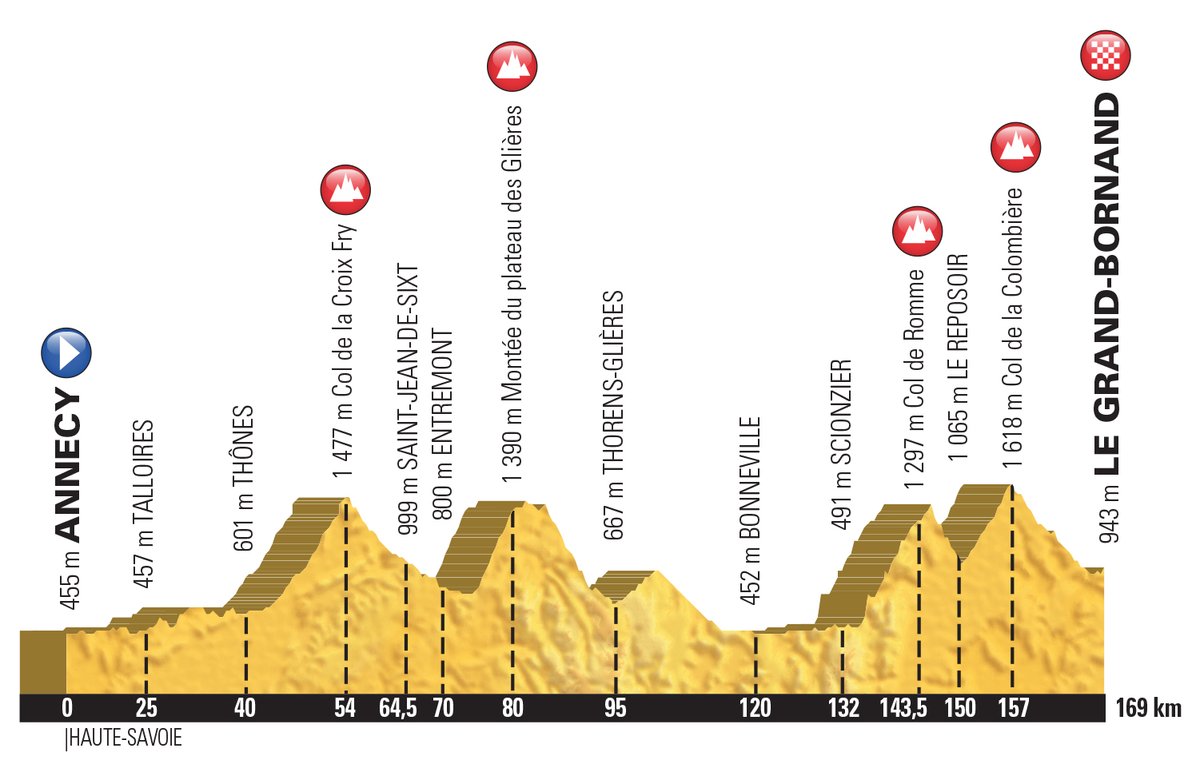 That may be fully supporting your participation in the event itself, or simply opening up the opportunity for you to ride a previous Etape stage in our area, which you can do on any one of our Northern Alps weekend breaks throught the summer.
Ride the Etape du Tour 2018 stage at your leisure
If you missed out on getting a place for the 2018 Etape, or you fancy giving it a go for yourself at your leisure, why not consider joining us for one of our Classic, Custom or Lite weekends instead:
Classic Package
Simply arrive at Geneva airport on the Thursday evening and we do the rest.
We will collect you (and your bike if required) from the airport, provide you with comfortable ensuite accommodation, half-board catering including afternoon tea and wine with your 3-course evening meal, and a challenge-packed itinerary which will include vehicle-supported rides over many of the cols used in the Etape and made famous by the Tour de France.
We'll take you back to the airport on Monday, ready for your late afternoon/evening flight back home, after an exciting weekend's riding.
Custom Package
The same benefits as the Classic package, except we work with you and your group to create a fully bespoke experience, which can include riding the entirety of the course the Etape and stage 10 of the Tour covers, or any other package completely tailored to your requirements.
Lite Package
For those who prefer a more independent cycling weekend, and who wish to plan your own itinerary, ride at your own pace and devise your own experience.
This package still includes your airport transfers and half-board accommodation, plus support from our local team in helping you to plan out your itinerary, or offer any advice or guidance you might need for your trip.
2018 Etape du Tour and Tour de France Stage 10 Preview
In late autumn 2017, Mavic took one of the last chances to get up to the mountains for a recon of the 2018 Etape du Tour, which would then also be stage 10 of the Tour de France just over a week later.
Join Frank Schleck, Nico Roux and some of the brave souls from Mavic as they take on this epic stage of the Tour de France.
This is what you could ride for yourself on one of our road cycling breaks in the French Alps.
Questions about the Etape du Tour short break?
Just email us at info@bikeweekender.com , call us on +44 (0) 845 557 5983 or
Enquire Here