Tour de France 2020
4-day Watch and Ride Cycling Holiday
Tour de France 2020 – French Alps Cycling Break
Thursday 10th – Monday 14th September – to be confirmed
Come and watch the world's most famous Cycling Race!
This year the Tour de France will return to the Alpine region in the third and final week of this monumental event. If you want to experience this gruelling race at first hand, come join us for an exciting long weekend and experience the buzz of watching the live mountain stage finish with us on Grand Colombier Sunday 13th September, whilst also challenging yourself by riding some of the actual cols made famous by the Tour for yourself over the rest of the weekend!
Click on the Details/Itinerary tab for more information about the rides you could be ticking off this summer…
To celebrate the Tour being in our area, we are offering our very popular 'Tour de France watch and ride 4-day weekend' – a fully-supported package from our home base in the Aravis. The Aravis Lodge is the perfect 'home from home' cycling base from which to experience some incredible Alpine riding whilst enjoying the attentive service of our team in the cosy surroundings of the Lodge.
You will be accompanied over the 4 days by one of our local guides in a minibus – this is our playground – we live, work and play in this area, so we know all of the quiestest and most scenic roads to ride on, the best coffee/lunch stops and those totally Instagrammable spots for a quick selfie to show off your achievements (and incredible views) to those back home.
The Lake Annecy – Aravis region in the northern French Alps is a fantastic cycling destination; frequently featuring in the Tour de France, often hosting the Étape du Tour – most recently in 2018 -, and also playing host to the Criterium du Dauphiné on a regular basis.
If you are a cycling enthusiast, keen to experience the racing calendar's most celebrated race at first hand, as well as testing yourself by riding some of the Tour's most iconic climbs, this long weekend break is not to be missed!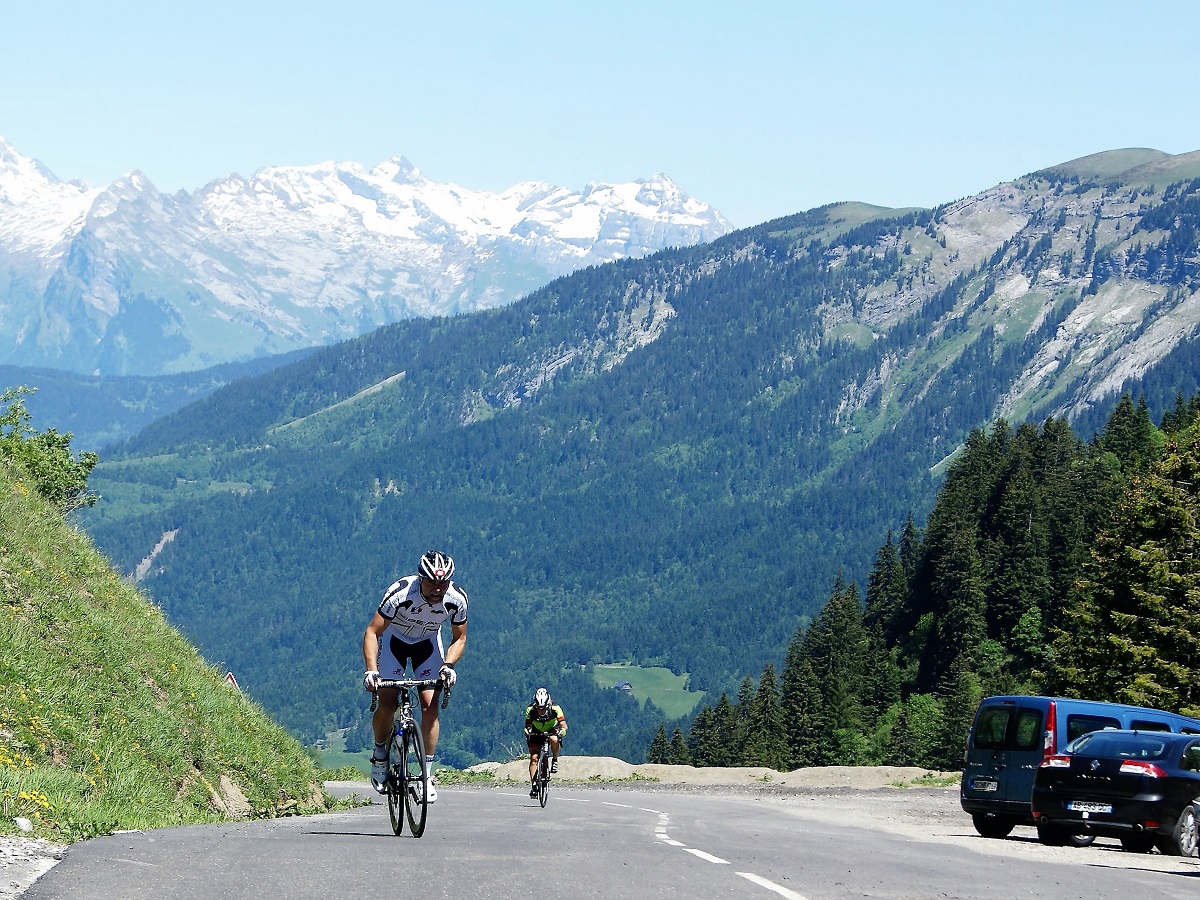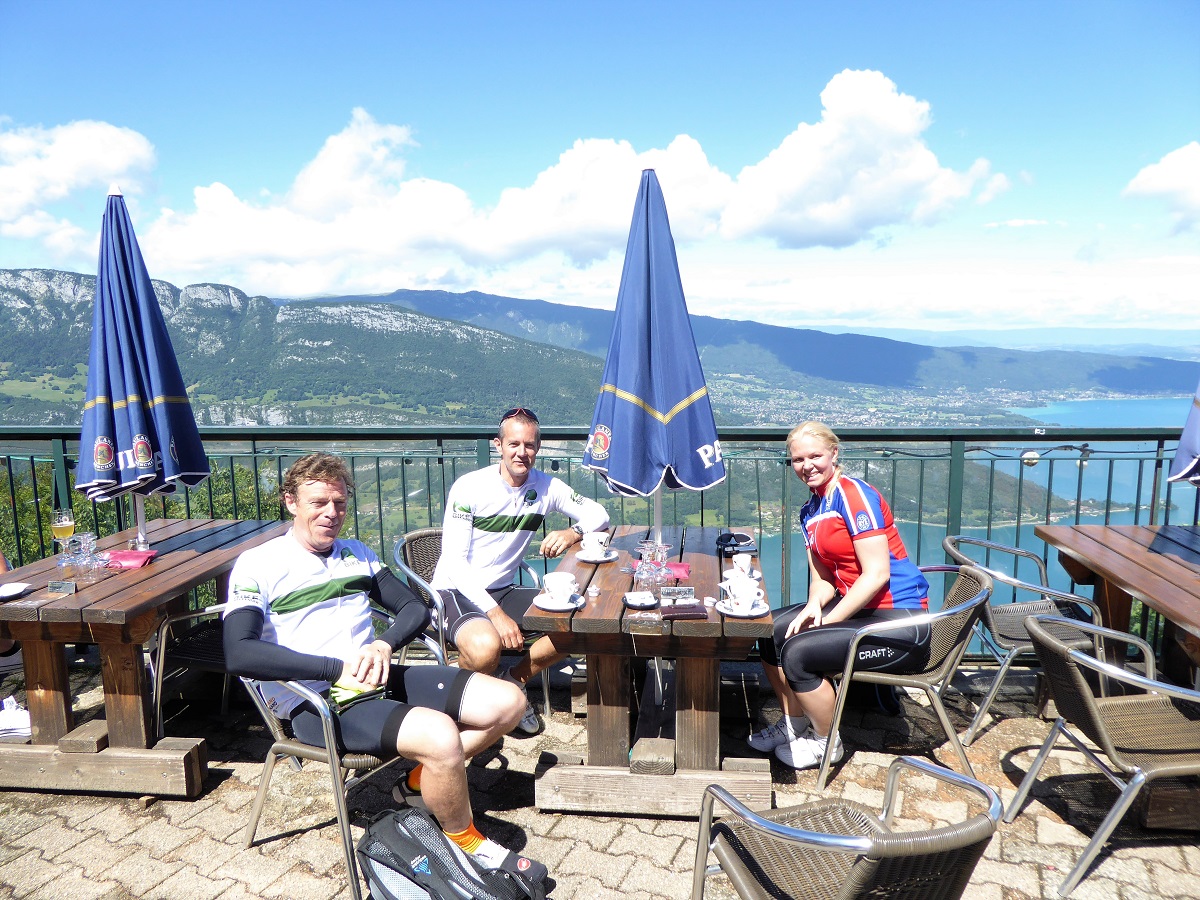 We've carefully selected the best routes in the region to allow you some fantastic riding, as well as a great vantage point from which to experience the race for yourself.
Your riding will feature amazing scenery and climbs, including the Col de la Colombiere, Col des Aravis, Col de la Forclaz and the Col des Saisies, along with the little-known Col de l'Arpettaz with its 42 switchbacks and superb views of Mont Blanc.
Rides are typically around 70km – 110km with between 1500m and 3750m of climbing.
Our 4-day Tour de France watch and ride 'Classic' weekend break will have a fixed-route group ride planned for each day of the trip, but we always have extra climbs and loops up our sleeve for those riders who want a little extra!
Then if your legs are feeling it a few days in, our support vehicle will be waiting for you on each col with drinks, snacks and the option of a lift home if you need it.
You will also get to spend some time down at Lake Annecy, where you will get to see this beautiful mountain region from a totally different perspective.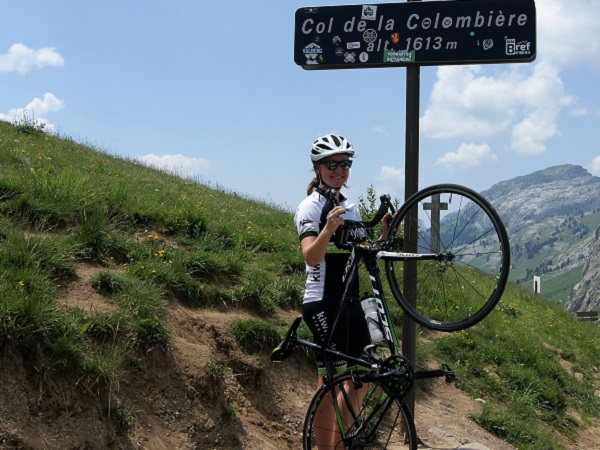 Our Dedicated Cycling Base – Lake Annecy / Aravis Mountains
Our base for your 4-day Tour de France 'watch & ride' cycling holiday is the Aravis Lodge, in Saint Jean de Sixt: the home of Bike Weekender.
A charming Alpine farming village in the heart of the Aravis Mountains, yet only an hour's transfer from Geneva airport, its location ensures varied cycling is possible with minimal hassle, all week long.
It's a sociable chalet-hotel, offering great cyclist-friendly food, on-site bike hire, secure bike storage and a high level of personal service from our resident team, helping to make this a trip to remember for a long time to come!
Tour de France 2020 – 4-day French Alps Break
Thursday 10th – Monday 14th September – to be confirmed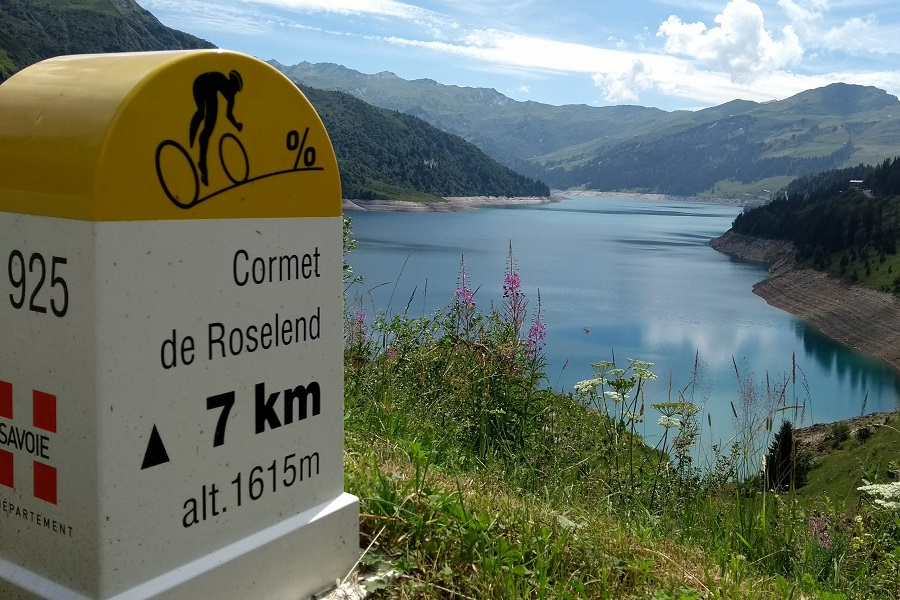 This summer we'll be running another of our popular 'Tour de France watch and ride' breaks to allow you to get up close and experience the atmosphere of the world's greatest stage race at first hand.
To celebrate the Tour de France coming through the region, we have devised a special itinerary for you, to ensure that you experience the best the area has to offer, whilst getting in on the Tour action, on what are usually some of the most exciting and decisive stages of the Tour.
You'll be riding at least 6 famous Tour de France cols, on quiet, smooth Alpine roads. It's a challenging and rewarding weekend featuring world-class riding through beautiful Alpine scenery.
You'll stay at our home base, the Aravis Lodge, a comfortable home away from home in the centre of the traditional Alpine village of Saint Jean de Sixt.
As well as delicious, hearty food, you'll find great bike facilities and dedicated service from our resident team.
This 4-day holiday has a very short airport transfer from Geneva, and full vehicle support for each day's ride, giving you the most cycling possible.
Each day we'll head out on the scheduled ride after breakfast at the Lodge. Lunch (not included in the package) is taken at cafés / restaurants along the ride route.
After each ride, there'll be afternoon tea back at the Lodge, whilst watching the closing miles of that day's Tour de France stage on TV (in English!) and a chance to relax before a 3-course evening meal, with wine.
All rides are accompanied by our friendly and knowledgeable support team in the minibus, who will be equipped with plenty of drinks and snacks, spares, along with any gear you don't want to carry, and shouting encouragement along the way.
They can also give you a ride back to base if the legs give up, allowing you to simply enjoy the experience.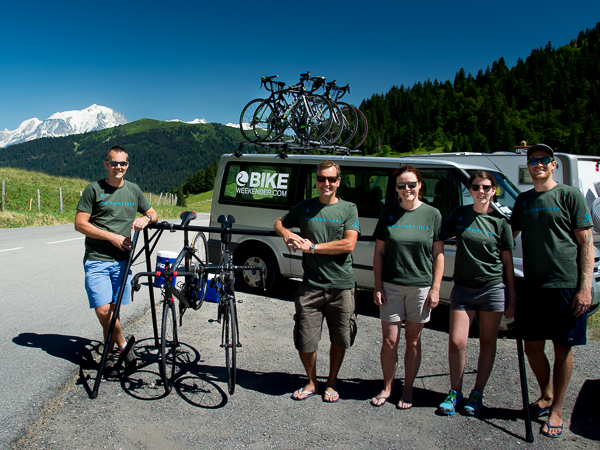 'Watch & Ride' the Tour de France 2020 – Holiday Itinerary
Thursday 10th September – Arrival
You arrange afternoon / evening flights to Geneva Airport. Geneva is well served with flights from the UK – see full details on travel options here >>>
Our airport pick-ups are at 17:30 and 21:45 – transfer to your base is only 1 hour. There'll be time to build bikes / set up hire bikes, before a 3-course dinner or late supper is served.
Friday 11th September – Col de Forclaz and Lake Annecy and Col de Leschaux
A spectacular ride to break the legs in! A stunning climb up to the Col de la Forclaz with its beautiful views across the lake before the fast descent back down to the cycle track around the lake and on to the stunning climb up to the Col de Leschaux.
The descent back down to the medieval town of Annecy is fabulous! We will stop for a well-deserved ice cream stop in the old town of Annecy. There is the option to call it a day in Annecy and jump in the van to avoid the steady 25km drag back up to base.
Ride distance = 118km with 2582m ascent
Saturday 12th September – the Aravis Loop
An absolute gem of a ride; don't let the 'short' length lull you in to a false sense of security!
After the descent in to Thones and the relatively gentle climb over the Col de Marais and down to the valley floor, we tackle one of the Aravis' best kept secrets. The 16km climb up the 42 switchbacks of the Col d'Arpettaz will undoubtedly be one of your weekend's highlights; the views of Mont Blanc from the top are breathtaking before tackling the technical descent back to the valley floor.
A welcome stop in Flumet will prepare you for the final ascent of the day, up and over the famous Col des Aravis, where the Tour de France peloton will be riding themselves a few days later.
Ride distance = 89km with 2556m ascent
Sunday 13th September – off to watch the Tour de France
A long descent back down to Annecy will rid the legs of the previous day's lactate, before tackling the first half of the climb up to Semnoz then down the back through Quintal and across the plain to Rumilly.
We will then tackle the climb up the quiet road up over Montagne du Gros Foug, before descending to the base of the day's final – and by far biggest – climb of the day to watch the summit finish of Stage 15 atop the Grand Colombier.
After the stage finish, we will return to base by van.
Ride distance =104km with 2954m ascent
Monday 14th September – Col de la Colombière Loop with Mont Saxonnex – Departure

Departure day! Today's ride is designed to spin the legs out and get rid of the lactate, whilst giving you one last blast in the glorious Alpine scenery, and 1 more Tour de France col to tick of your list!
A gentle descent down the gorge and cruise along the valley floor gets you ready for the stunning climb up the Gorge de Bronze, and on to the hilltop village of Mont Saxonnex before dropping down to the foot of the last climb of the trip, the famous 16km ascent of the Col de la Colombière.
You will then descend back down through Grand Bornand (which saw a stage finish in 2018), and back to base in good time to for your departure back to the airport.
Ride distance = 65.62km with 1997m ascent
Return to base, pack away bikes, shower before departing to Geneva Airport.
Transfers leave base at 14:00 (for flights departing after 16:45) and 17:30 (for flights departing after 20:30)
Please Note
The itinerary outlined is provisional, although it's a very typical outline of the routes you can ride on a 'Classic' break. On rare occasions, we may have to modify this programme due to weather conditions, group ability, roadworks etc.
The Aravis Lodge – A Perfect Cycling Base
The Aravis Lodge is set up to cater to all of your cycling holiday needs, so make yourself comfortable and think of it as your home away from home.
The Aravis Lodge has 18 ensuite bedrooms, with all bathrooms having recently (2016) been fully renovated in a fresh, contemporary style. Most rooms are 2-person twin / doubles; there are also four larger family rooms, which sleep up to 4 in twin / double beds plus an adult-sized bunk bed.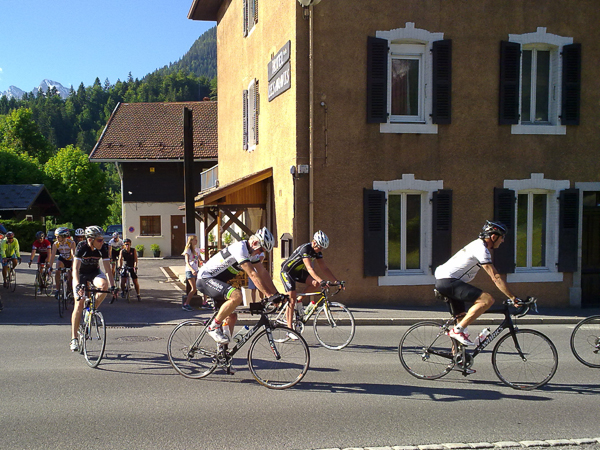 The ground floor of the Lodge has a large dining and breakfast room, with tea and coffee available throughout the day. It also has a large, sunny lounge with comfy sofas, a smaller TV room with satellite TV and DVD player, and a large licensed bar. The bar has draught beers (Kronenbourg and Guiness) on tap along with a wide range of spirits, bottled beers and soft drinks.
On the basement level you will find the bike room and workshop. There is also a fully equipped gym and fitness room with CV and weights machines – in case you haven't had enough exercise already. The modern sauna and massage room always seem to be much more popular!
Aravis Lodge Food and Drink for Cyclists
All Bike Weekender breaks include half board – a hearty breakfast and 3 course evening meal every night.
Breakfast is a continental buffet, served from 0730 each morning to set you up for the day's riding.
Dinner is freshly prepared by a dedicated chef team, using local produce, and served at 1930 each day. Menus are planned with cyclists in mind, and will fill you up with the carbs you need for the next day's riding.
Red and white table wine is included with dinner; additional drinks (draft and bottle beers, spirits and wine-list wines by the bottle) are available from the Aravis Lodge bar on a tab basis, charged on departure in Euros.
Find out more about the Aravis Lodge in the Northern French Alps here >>>
Tour de France 2020 – 'Watch & Ride' Cycling Holiday
Thursday 10th – Monday 14th September – to be confirmed
Special package price = £545pp
All prices are per-person, based on 2 guests sharing a room. Contact us for details of single occupancy options.
Inclusive package includes:-
Transfers to / from Geneva Airport
Ensuite accommodation at the cosy chalet-style Aravis Lodge, Saint Jean de Sixt (twin/triple rooms)
Cyclist-focused breakfast and hearty 3-course evening meal, including red and white wine
Fully supported rides – route marked, vehicle support, drinks and snacks etc.
The dedicated service of our professional, friendly team
Access to the in-house gym and sauna
Not included in the package price:-
Flights to / from Geneva – arranged independently
Bike hire – quality carbon road bike hire can be arranged with us from £140 for 4 days
Lunches whilst out riding – bought directly
Additional drinks from the Aravis Lodge bar – tabs charged on departure
Post-ride massage (optional)
---
Airport Transfers
For Arrivals from Geneva Airport
Arrive on Thursday 10th September at Geneva Airport, by either 1730 for the first pick-up, or 2145 for the second.
For Departures from Geneva Airport
Monday 14th September – departing our base at either 14:00 (for flights departing after 16:45) or 17:30 (for flights departing after 20:30).
---
Booking Process
Please sign up using the booking form below
Pay a deposit of £150pp once your reservation has been confirmed by email
The remaining balance will be due 6 weeks prior to the trip and you will receive an email reminder 1 week before it is due.
If you'd like to join us on this special Tour de France 2020 4-day cycling holiday, please just click on the button below to access the booking form and we'll be in touch by email shortly to confirm your reservation.
If you have any questions about any aspect of our road cycling holidays, our package, accommodations or the areas we operate in, just send through an enquiry form here, call us on +44 845 557 5983 or email info@bikeweekender.com
Bike Hire
The Aravis Lodge has the most convenient bike hire facilities of any of our locations – it's mere steps away, on-site! You can grab a cup of tea (or a beer!) and head down to the Lodge basement on your arrival afternoon / evening, at your leisure, and get sorted with your bike and other kit from our comprehensive range of gear. For more details and full prices please see here >>>
Sauna
The Aravis Lodge has a sauna on the lower ground level, along with the on-site bike hire suite. The sauna is available to all guests in the afternoon and early evening.
Tour de France 2020
4-day 'Watch & Ride' Cycling Holiday
Questions about the Tour de France 2020 holiday package?
Just email us at info@bikeweekender.com , call us on +44 (0) 845 557 5983 or