Updated 1/10/19 – Now that the official launch of the route for the Tour de France 2020 is drawing near, the route rumours are steadily ramping up in the French media!
We're keeping track of these rumours and updating this post regularly whenever we have anything new to report with regards to the Tour de France 2020, right up until the ASO launch on Tuesday 15th October in Paris, so do keep checking back.
You can find the latest rumours highlighted in red below.
Tour de France 2020 – route speculation
Tour Organiser Christian Prudhomme has already said the parcours won't be reaching such high altitudes as it did in 2019, which was a special edition for the 100th anniversary of the yellow jersey.
This makes us think that the Tour de France route for 2020 has been designed with a French winner in mind yet again, given it will be 35 years since Frenchman Bernard Hinault took home that prestigious jersey.
Julian Alaphilippe set French hearts (and many others) alight in the summer of 2019, and they will be hoping he can complete the job next year, although he has said he won't be targetting the GC in 2020. Mind you, he said that this year as well and we all know what happened then.
The other key French hopeful is Thibaut Pinot, who showed fantastic form this summer, and many believed he could have gone all the way to the Champs Elysées this year had he not tragically had to abandon on stage 19 due to a thigh injury.
So look out for Tour de France 2020 route that will feature plenty of stages that suit punchy, attacking riders like these, no doubt with at least 1 very short stage of around 60-70km to create some real excitement in the GC.
So what about the mountains you may ask, apart from there being less lung-busters over the 2,000m mark next year?
Route rumours for the 2020 Tour de France are still relatively quiet when it comes to the mountain stages, except to say that current speculation is the Pyrenées will again feature first for the 2nd year in a row, with the Alps bringing up the finale.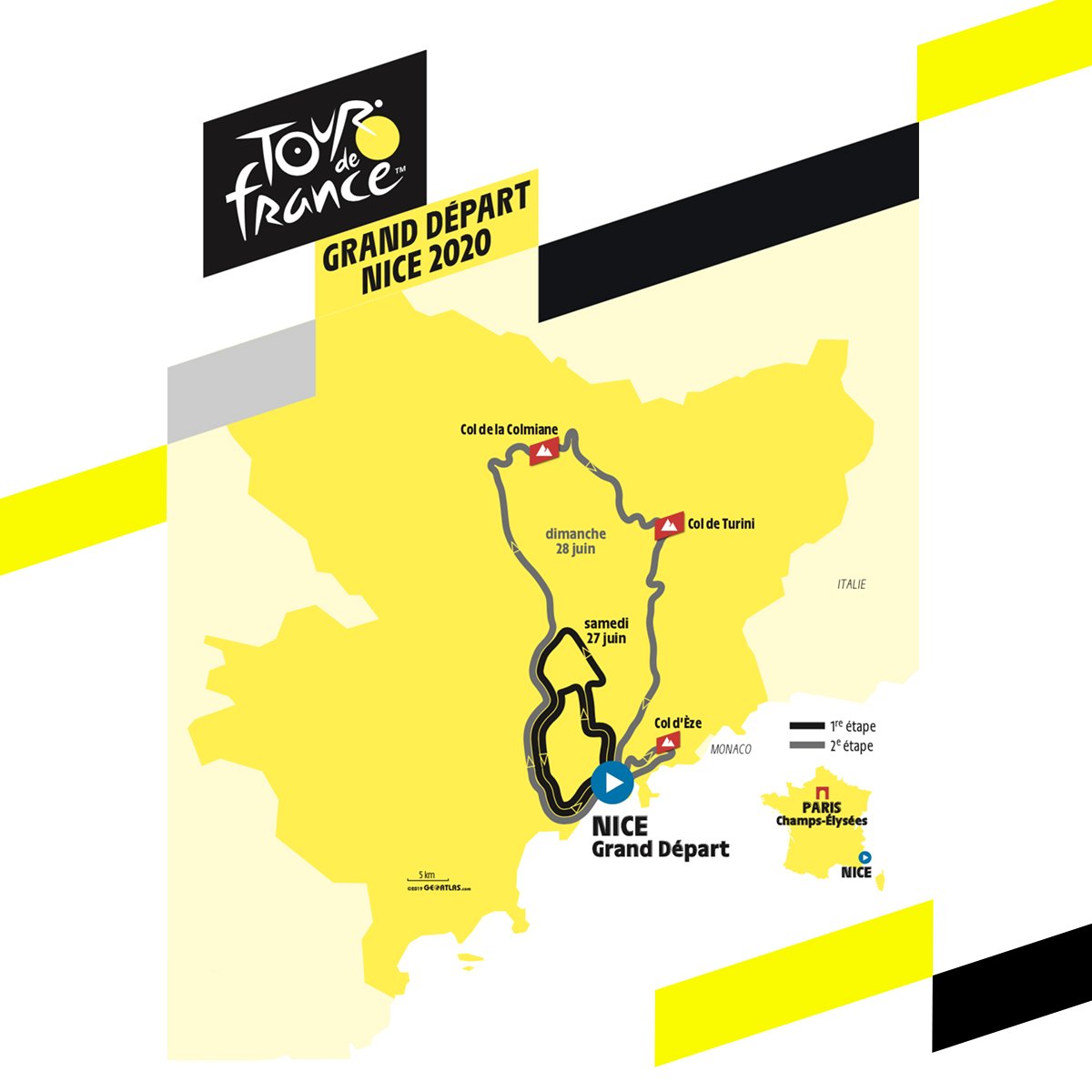 Many people are hoping for a return to the iconic Mont Ventoux or Alpe d'Huez, given this year we missed some of the more infamous climbs and it's a few years now since those spectacular images of Chris Froome running up the Giant of Provence, but there doesn't seem to be anything to suggest either will feature just yet.
What we know so far about the Tour de France 2020
Dates: Saturday 27th June – Sunday 19th July 2020 (1 week earlier than usual so as not to clash with the Tokyo Olympic Games)
Grand Depart: Starting in Nice on the stunning Côte d'Azur, in the south of France
Stage 1: Nice midlands – Nice (170km). 
This stage starts and finishes on the coast as might be expected, and is actually quite a lumpy stage, with 3 loops which should please spectators.
This is followed by what is expected to be a much anticipated bunch sprint, which could see a sprinter get their day in yellow.
Stage 2: Nice highlands – Nice (190km) – unusually the 2nd stage of the 2020 Tour de France features close to 3700m of accumulated elevation, including an early ascent of the Col de Colmiane at over 1500m, closely followed by the Col de Turini and the Col d'Eze, with a descent to finish. The likelihood of the yellow jersey wearer from stage 1 still being in it at the end of stage 2 are very slim, and we might even see some small gaps appearing in the GC at this early stage.
Tour de France 2020 – early route rumours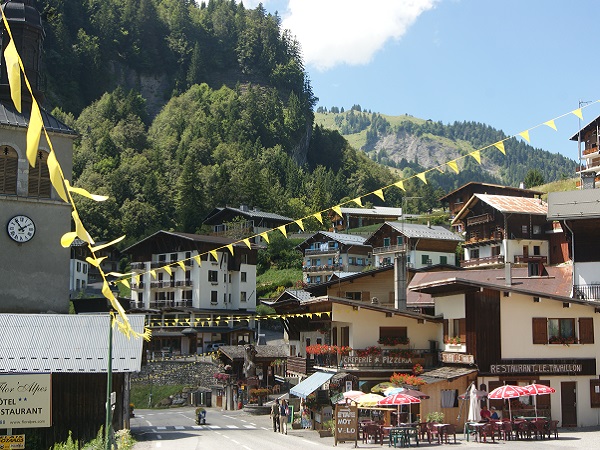 Exact details of the remaining stages won't be revealed until the official presentation on Tuesday 15th October.
However various local and national French newspapers and several blog sites have been fuelling a number of different rumours.
Many seem to suggest that after the Grand Depart in Nice and a couple of days in Provence, the route will then veer anti-clockwise towards the west coast maritime regions, then down through the infamous wine region of Bordeaux, to Tour favourite Pau and the Pyrenées, then back across the country through the Corrèze, the Cantal and the Ardeche towards the Alps, via Lyon or Grenoble.
Stage 3 –

UPDATED

– a foray into the gorgeous lavender region of Provence is looking more and more likely, with the Citadelle of Sisteron being named as a favourite for the stage finish, perhaps with the stage start still in the Nice region.
Stage 4 –

UPDATED

– Sisteron – Orcières-Merlettes 1850
Stage 5 –

UPDATED

– Gap – Privas, also with rumours of a possible time trial in/near Gap
Stage 6 – ?? to Mont-Aigoual in the Gard region, around 1500m
Stage 7 –

UPDATED

– Millau to ??
Stage 8 –

UPDATED

–  Pyrenées perhaps? Rumours suggest Cazères to Loudenvielle
Stage 9 – ?? Bordeaux perhaps?
Rest day 1 – La Rochelle in the Poitou-Charentes region?
Stage 10 – Ile d'Oléron to Ile de Ré
Stage 11 – La Rochelle to Poitiers
Stage 12 – Start in Chauvigny to ??
Stage 13 – ??
Stage 14 –

UPDATED

– Clermont Ferrand to Lyon
Stage 15 – ??
Rest day 2 – ??
Stage 16 – 

UPDATED

– The Alps – rumours suggest the Tarentaise, perhaps Brides-les-Bains, Méribel and Corchevel
Stage 17 – ??
Stage 18 – ??
Stage 19 – ??
Stage 20 –

UPDATED

– return to Planche des Belles Filles? Possibly a time trial?
Stage 21 – ?? to Paris, Champs Elysées
The city of Clermont Ferrand in the Massif Central seems to be a popular bet for a stage start, with a much touted finish atop Puy Mary in the Cantal region.
Some are also suggesting the route may go to Ile de Noirmoutier on the north west coast up from La Rochelle and even as far north as the Mur de Bretagne in Brittany, so these stages would probably come before a trip to Clermont Ferrand – it would certainly make more sense if then heading over to the Alps. Bourges has also been mentioned on a few sites as well.
So we could be looking at a stage from Chauvigny to Noirmoutier (though that would be very long!), followed by a jaunt up into Brittany, then back down through the country via Bourges, Clermont Ferrand and Privas in the Ardeche, eventually ending up with 3 exciting stages in the Alps, which will determine the eventual winner.
UPDATED Whereas more recent rumours suggest that the Alps will feature earlier in week 3, heading further back up north for the penultimate stages. French media went crazy last week over reports of a return to Planche des Belles Filles, with some press even mentioning a possible ITT finishing atop this iconic climb that played such a pivotal role in the 2019 Tour de France.
UPDATED What about a brief foray into Switzerland, with Lausanne and Crans Montana both being banded about.
This will all become clearer over the coming weeks as we draw closer to the big reveal, as more Mayors let their long-held secrets slip, people discover which towns have all of their accommodations booked and the gaps start to be filled in.
In the meantime though, we're eagerly awaiting the route through the Alps with it being our own play ground, and we'll hopefully have something up our sleeves that will enable you to come and join us for another Tour de France Watch and Ride road cycling break, where you'll get to watch a stage of the Tour live and then ride some of the infamous Tour de France cols for yourself!
So watch this space, and we'll keep this post updated.
(First published 10th September, last updated 1st October 2019)
With credits to VeloWire.com, France3, FranceBleu.fr, LeDauphine.com and various local French (and Swiss) publications