'Classic' Road Cycling Packages in The French Alps – North
The Best Road Cycling Weekend – Fully Supported Alpine Riding
Our Bike Weekender breaks in the Northern French Alps offer you great cycling, stunning scenery and the perfect base to relax and unwind after a long day in the saddle.
Our 'Classic' package is a fully supported trip – we provide vehicle support with snacks, drinks and spare gear transport on all rides.
Our guides will take an active role in route finding and helping you make the most of your riding throughout the weekend.
This package is the easiest, most convenient long weekend road cycling trip available; we will ensure that you get the most riding into your time away with the minimum of hassle.
Everything is taken care of, you just need to turn up at Geneva and we'll take care of the rest.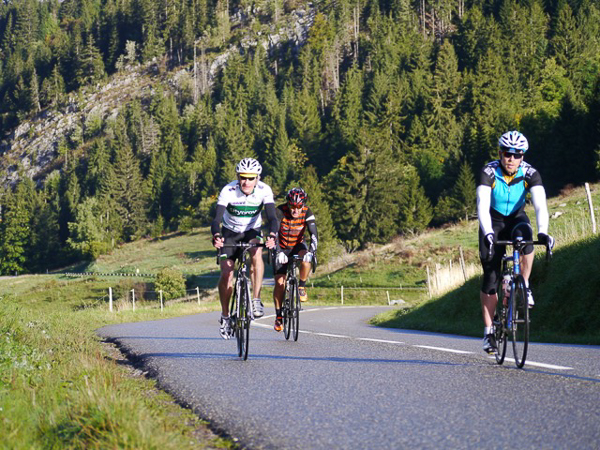 With a short airport transfer of just 1 hour, superb Alpine riding with lots of loop routes and add-on options for all fitness levels, smooth quiet roads, great weather… it will amaze you how much quality cycling time you can fit into a long weekend 'Classic' break with Bike Weekender.
Our Dedicated Cycling Base – Lake Annecy / Aravis Mountains
The Lake Annecy – Aravis region is a fantastic cycling destination… the Tour de France regularly passes through, with 3 stages having taken place within a few km in July 2016, and in 2018 stage 10 finished in Le Grand Bornand, in the heart of the Aravis mountains.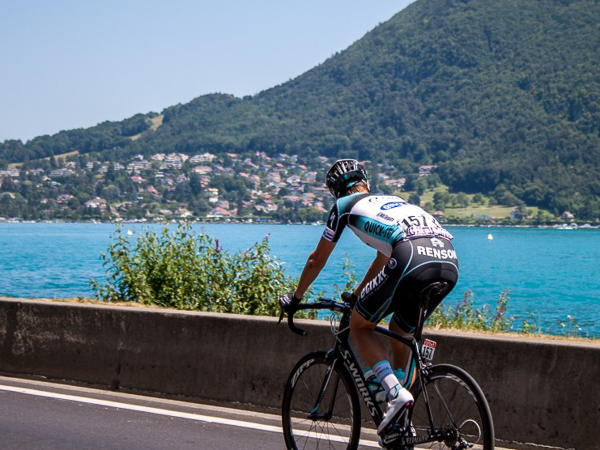 We've carefully selected the best routes in the region and your 4 days of riding will feature stunning scenery and climbs including the
Col de la Colombiere
,
Col des Aravis
and
Col de la Forclaz
.
Many of these fantastic road cycling routes start and end at the front door of your base.
Rides are typically around 70km – 100km with between 1500m and 3000m of climbing. 'Classic' breaks work with a fixed route group ride planned for each day of the trip, but we do have extra climbs and loops up our sleeve for those riders who want a little extra.
And if your legs are feeling it a few days in… remember that our dedicated team will be in the support vehicle waiting for you on each col with water, snacks and the option of a lift home if you need it…
Thursday to Monday Cycling Weekends – Maximum Riding, Minimum Hassle
Our 'Classic' Northern Alps trip is our most convenient long weekend package.
This 4-day weekend has a very short airport transfer and full vehicle support for each day's ride, giving you the most cycling possible over a short break.
You'll be riding at least 6 famous Tour de France cols, on quiet, smooth Alpine roads, with stunning views in every direction.
It's a challenging and rewarding weekend featuring world-class riding through beautiful Alpine landscape.
Our 'Classic' weekends are designed to give you a varied selection of the best riding to be found in the region.
We set a fixed itinerary for rides based on the make-up of each group, but for each day there is often flexibility to ride longer or shorter route versions.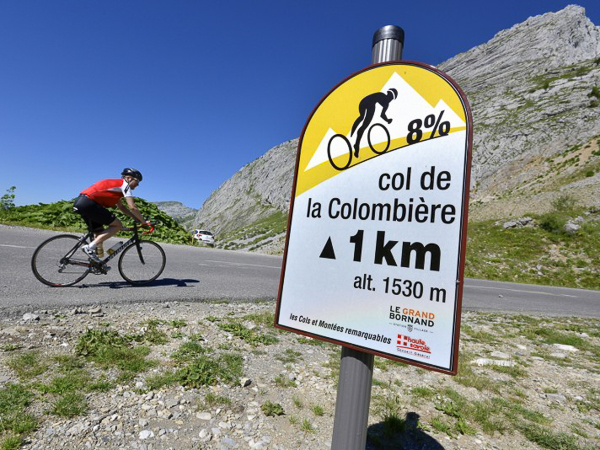 The following is a sample itinerary of what your 'Classic' weekend break might look like.
Cycling Weekend Itinerary – 4 full days riding Classic Tour de France Cols
On each day of a 'Classic' cycling weekend break, we'll head out on the scheduled ride after breakfast at your accommodation.
Lunch (not included in the package) is taken at cafés / restaurants along the ride route.
After each ride, there'll be time to relax before a cyclist-friendly 3-course evening meal.
Thursday – Arrival
You arrange afternoon / evening flights to Geneva Airport. Geneva is well served with flights from the UK – see full details on travel options here >>>
Our airport pick-ups are at 17:30 and 21:45 – transfer to your base is only 1 hour.
There'll be time to build bikes / set up hire bikes, before a 3-course dinner or late supper is served.
Friday – Col de Forclaz & Lake Annecy ride
A spectacular first-day ride with amazing views across Lake Annecy from the top of the Col de la Forclaz. Continue around the lake shore, passing through the beautiful medieval town centre of Annecy before the climb back to base.
Ride distance = 97 km with total climbing of 2049m
Saturday – Aravis Loop ride via Flumet
A stunning ride featuring Col de Marais and the less well-known but spectacular Col d'Arpettaz complete with 42 switchbacks – a real hidden gem!
Then tackle the famous Col des Aravis and a thrilling descent back to base – as featured on the final day of the 2016 Tour de France and will again be appearing in 2020.
Ride distance = 89 km with total climbing of 2556m
Sunday – 'Big Day Out' – 3 Classic Cols
A day for the climbers, ticking off three big classic Tour de France cols along with some hidden gems in one ride!
The morning starts with a gentle warm up before the steep ascent up to the famous Plateau des Glieres, and across the gravel section featured in the Tour de France 2018 and 2020, before descending down to our coffee stop.
A ride up the gentler Col des Fleuries and on to our lunch stop, before tackling the beautiful climb up to Mont Saxonnex, followed by the climbs up to the Col de Romme and Col de la Colombière, before the thrilling descent back to base.
Ride distance = 110 km with total climbing of 3585m
Monday – Col de l'Epine and Croix Fry loop – Departure

Departure day! Today's ride is designed to spin the legs out and get rid of the lactate.
A long, sweeping descent down the valley and gentle climb over the Col de Marais gets you ready for the fabulous climb up the Col de l'Epine, one of our favourites!
After a fast descent through pretty Alpine villages, we will climb back over the Marais and on to the base of the Col de la Croix Fry, our last climb of the weekend and also featured in the TdF 2018.
The reward is a fast descent down through La Clusaz and back to base in good time to pack away bikes and shower ahead of your departure back to the airport.

Ride distance = 73 km with total climbing of 1933m
Transfers leave base at 14:00 (for flights departing after 16:45) and 17:30 (for flights departing after 20:30)
Please Note The itinerary outlined is provisional, although it's a very typical outline of the routes you can ride on a 'Classic' break. On rare occasions, we may have to modify this programme due to weather conditions, group ability, roadworks etc.
Offering three locations, ideal for the Northern Alps
We are fortunate to be able to choose from three different locations for our road cycling breaks in the Northern Alps, each with their own advantages.
All three are either in or very close to the traditional Alpine village of Le Grand Bornand, in the heart of the Aravis mountains.
We tend to make our location selection based on the overall group requirements for each particular weekend, so may not be able to confirm exactly which hotel each break will be in until nearer the time.
Either way, you will receive a friendly welcome and service, in properties with charming character and comfort, in convenient locations.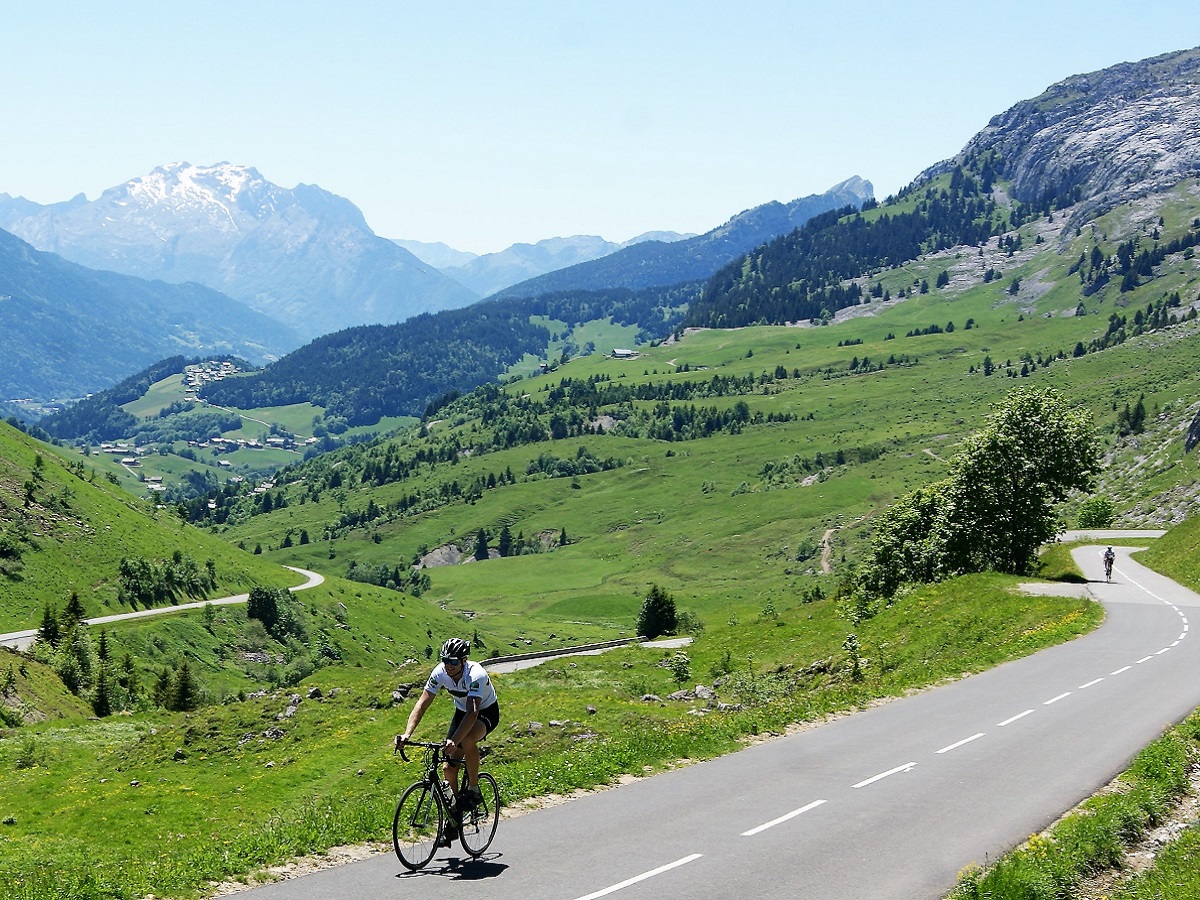 Each hotel is very bike-friendly with secure bike storage and more.
All rooms are en-suite; most of them are 2-person double / twins, plus a few larger rooms which can sleep up to 4 guests.
Hotels la Point Percée and Les Glaieuls also have a very small number of single rooms, available without a supplement.
Please contact us for more details if you are a solo traveller.
All options offer great riding direct from the door, and are accessible to the iconic cols made famous by the Tour de France, in addition to spectacular scenery.
Please note that, depending on availability, on some trips we may use other accommodation in the area, and these locations are also chosen as above.
Food and Drink for Cyclists
All Bike Weekender breaks include half board – a hearty breakfast and 3-course evening meal every night.
Breakfast is a continental buffet, served from 0730 each morning to set you up for the day's riding. Dinner is freshly prepared each day using local produce where possible.
Menus are planned with cyclists in mind, and will fill you up with the carbs you need for the next day's riding.
All of the hotels are used to feeding cyclists, and their teams know what sort of food you need for the next day's riding.
Accommodation Options
Find out more about each of our accommodation options in the Northern French Alps at:
Dates and Prices for 'Classic' Cycling Breaks – Northern Alps
Our 'Classic' road cycling breaks are available in the Northern French Alps on certain fixed dates each summer, on a Thursday – Monday 4-night basis.
These breaks are available to book for individuals, couples and small groups.
For trips to other destinations, on other dates, longer stays, or holidays with a different start / end day format, we can arrange custom road cycling packages for groups of 6 or more.
See here for more details of our custom trips for clubs and groups >>>
All prices are per-person, based on 2 guests sharing a twin / double room. Please contact us for details of single occupancy options.
[table "53" not found /]
Bike Weekender 'Classic' Packages Include:
Ensuite accommodation at your base in or near to Le Grand Bornand
Airport transfers from Geneva – pickup at 17:30 or 21:45 for arrivals
Airport transfers to Geneva – depart resort at 14:00 or 17:30
Half-board – hearty, plentiful, cyclist-friendly food
Vehicle support on every ride
The dedicated service of our professional, friendly team
Not Included in the Package Price:
Flights – arranged independently. See here for full details >>>
Bike Hire – quality options available. For more details and full prices please see here >>>
Lunches whilst out riding – bought directly
Additional drinks from the bar
Interested in a 'Classic' Break in the Northern French Alps?
If you'd like to join one of the dates above, just send through our booking form here… we'll be in touch by email shortly to confirm your reservation.
If you have any questions about any aspect of our road cycling holidays, our package, accommodations or the areas we operate in, just send through an enquiry form here, call us on +44 845 557 5983 or email info@bikeweekender.com
Looking to book a 'Classic' Northern Alps break?
Just email us at info@bikeweekender.com , call us on +44 (0) 845 557 5983 or