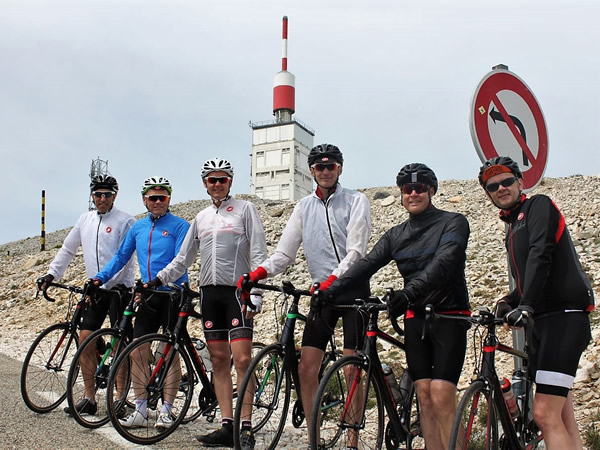 Why Head to the Provence – Ventoux Region for a Road Cycling Short Break?
As keen cyclists, we are very lucky to live in the Aravis region of the French Alps. With its beautiful, laid back Alpine villages, great road surfaces, and access to the stunning medieval city of Annecy with its aqua-blue lake, it is home to arguably some of the greatest road cycling terrain in Europe.
That notwithstanding, we can't help getting excited whenever we have a trip booked in for one of our Provence-Ventoux weekends.
So, as a cyclist, what is it that makes a trip to Provence so appealing?
In no particular order, here are our top six favourite things that make a short break road cycling trip to Provence a must:
1) The Weather – warm and sunny
The Provence area of France enjoys a sunny, Mediterranean climate, which means that whilst Northern Europe – and the French Alps – are still struggling to wrestle free from the tail end of the winter months well in to spring, the climate in Provence is generally warm and sunny.
With daytime temperatures extending in to the mid-20's, this is the ideal environment for road cycling.
Similarly, the agreeable temperatures can extend late in to the Autumn months, making Provence an ideal cycling destination for some early season miles, or a great way to enjoy some late season sunshine.
The area can be very hot through July and August and usually extremely busy, so unless you like to ride in extreme temperatures, the high summer months are best avoided!
2) The Scenery – vineyards and villages
Basking under the Mediterranean sun, the Provençal landscape is famed for its laid-back beauty.
With rolling hills covered in vineyards and cherry orchards, world famous lavender fields, medieval hilltop villages of bleached stone which feature in 'Les Plus Beaux Villages de France' (The prettiest Villages in France), it is easy to see what makes this region of France so attractive to visitors, and there is no better way to experience it than on a bike.
The quiet lanes criss-crossing the area are a cyclist's dream, and are the best way to really immerse yourself in the quintessentially French feel of villages like Gordes, Lacoste, Ménerbes and Roussillon.
3) The Challenge – Mont Ventoux
At 1,912m the iconic mountain dominates the landscape in this part of the world.
Featuring on every keen cyclist's bucket list, this mountain deserves its reputation as a serious challenge.
It's a 21km climb and definitely a test for all levels of rider, giving a great sense of achievement when you reach the top.
Infamous for the untimely death of the British professional cyclist Tom Simpson near its summit in 1967, and more recently witnessing eventual 2016 Tour de France winner Chris Froome running towards the stage finish after a crash with a motorbike, the Giant of Provence attracts thousands of cyclist from around the world seeking to do battle with the mountain – and the elements – to emulate their Tour de France heroes.
The landscape is unique; the challenge very real!
4) Variety of Riding and Routes
One of the things that most surprises our guests on one of Bike Weekender's Provence-Ventoux road cycling short break weekends, is that there is a lot more fabulous riding in the area than simply riding up the world famous Ventoux – probably the main reason they were attracted to the area in the first place.
Provence really does have something for everyone when it comes to spending days on a bike.
From the rolling hills of the Luberon National Park, and its picture postcard landscapes featuring medieval hilltop villages, to the wilder, hilly Vaucluse region, to the Giant of Provence itself, the area offers up plenty of opportunity for cyclists of all abilities to challenge themselves.
5) The Gorge de la Nesque
It is difficult to talk about cycling in Provence and not mention this stunning 20km stretch of road carved in to the rock face, running the length of the Gorge de la Nesque.
Whether you choose to climb the gorge from Villes-sur-Auzon, never steep and at a very manageable average of 3%, or you descend from the picturesque village of Monieux, the views along the route are simply breath-taking.
This ride has been described by guests as "the best 40 minutes ever spent on a bike".
Enough said!
6) Regional Specialities – food and wine
The best road cycling breaks aren't all just about the riding and the views, they're also about the opportunity to try the fantastic regional cuisine as well.
Provençale menus are full of dishes made with fresh, local produce, typical of a Mediterranean climate – vine-ripened tomatoes, garlic, olive oil, and of course 'herbes de Provence'.
These are accompanied by a chilled glass of rosé wine the area is so well-known for, so refreshing on those hot, sunny days whilst sitting on the terrace or by the pool. It just has to be done!
If you would like to sample the wide range of rides available in this area, including some a little more challenging, and if you're keen to ride in a group, why not join us for a Provence – Ventoux Classic 4-day weekend break from May to October 2021.
This is a fully-supported cycling break with a fixed itinerary, that gives you a real taste of the best this stunning area has to offer!
Also, if there are a group of 6 or more of you who would like a more custom cycling break to the Provence – Ventoux region just for you, we can organise that for you too.
Simply get in touch with an idea of group numbers, dates and what you are looking to get out of the trip, and leave the rest to us.
We hope to have you join us very soon!