Now that the Tour de France is over for another year, people are already speculating about the Tour de France 2018 route, and rumours abound. We're keeping track of these rumours and updating this post regularly, whenever we have anything new to report, so do keep checking back.
Update 9th October 2017 – Annecy to Grand Bo with gravel track, and Alpe d'Huez 2 days later
As you can imagine this close to the release of the official Tour de France 2018 route, rumours are flying. Today's intel come from newspaper Le Dauphiné, which seems to confirm that stage 10 will in fact start in Annecy (after the first rest day in Annecy) and end in Le Grand Bornand as we suspected, but it will also include a 1.8km stretch of gravel track over the Plateau des Glières. Given this could also potentially the stage to be used in the Etape du Tour, that should be very interesting indeed.
Stage 11 is reported to be from Albertville to ski station La Rosière, in the Savoie region – this may also potentially be the stage used by the Etape too. Stage 12 is will then deliver a much anticipated finish up Alpe d'Huez, having started in Bourg-St-Maurice. Le Dauphiné suggested that might take in the Cormet-de-Roseland, another favourite ride of ours here at Bike Weekender – though we're trying to figure out how that might work. Either way, we could be having 3 exciting days of action in the Alps by the looks of things.
We're going to be releasing our short break plans for these events after the official launch next week, so watch this space!! Depending on a few details, an epic Tour de France extravaganza may be in the pipeline – we'll know for sure after the launch next Tuesday – but you might want to consider pencilling out that whole week…
29th September 2017 – Tour Stage finish in Grand Bornand

We have had it on fairly strong authority that the Tour de France stage on Tuesday 17th July will finish in Le Grand Bornand – and the route will take in Col de Romme and Col de la Colombiere before descending into Grand Bo for the finish line.
Not sure yet if they are coming from Annecy – which has been rumoured as the route of the Etape du Tour as well!
Otherwise – we have heard that Annecy will feature for a couple of days (so possibly another time trial?)
Very exciting news that we could have up to 3 days of Tour de France 2018 action very close to our home base!
This route map has been found on the Internet and looks good, but caution – there are often a few versions circulating, so may not be the definitive route.
26th September 2017 – cobbles or gravel, and official route release date
First the rumours mentioned various gravel track stages, including some used in the Tro-Bro Léon, which excited a lot of fans. However, more recent rumours seem to suggest a cobbled stage used in the Paris-Roubaix might be used instead, in which case the gravel might be relegated to another year. Or maybe they'll trial a gravel stage at the Dauphinè first, before subjecting the Tour peloton to them.
Could we be in for another Individual Time Trial (ITT) on the penultimate stage before Paris? Again this could be a deciding factor as to who takes home the yellow jersey on the Champs Elysèes the nexy day and will be sure to keep riders and fans on their toes right to the end, just like at this year's Vuelta. If the leader at that point has less than a minute's lead, they will be feeling very uncomfortable about keeping the maillot jaune – unless it's Chris Froome or Tom Dumoulin, who might feel slightly more confident. The Gironde is the rumoured location, before a final transfer to the capital.
With regards to the official launch of the 2018 Tour de France Route, that will be in Paris on Tuesday October 17th, so not long to wait. We're feeling very excited here at Bike Weekender HQ, you'll find out why for yourselves on the 17th!
8th August 2017 – Northern Alps middle of the 2nd week

We have heard more evidence that the Tour will be in the Northern Alps (the Aravis??) during the middle of the second week…Hoping to find further details of the routes and towns soon. That would be brilliant news for us, given that's our home territory here in St Jean de Sixt. Watch this space and remember, you heard it here first!
31st July 2017 – stages 4-7 leaked by Enedis, and even more gravel roads
It is reported that yesterday the French electricity company 'Enedis' – partner and official sponsor of the Tour de France –  tweeted a Tour de France 2018 route map showing stages 1-7 throughout Brittany, which included stage 4 – La Baule – Sarzeau, stage 5 – Lorient – Plouhinec, stage 6 – La Pont du Raz – Brasparts, stage 7 – Carmaix – St. Malo. They hastily deleted the tweet soon after. Fake rumour or truth? I guess we'll find out in October – possibly the 17th.
In addition to the dirt roads used in the Tro-Bro Léon, Thierry Gouvenou, the Tour's route planner recently tweeted from a dirt road near Mont Lozère in the Cévennes mountains with the caption "under the spell of this mountain road… pleasures of the recon" – so maybe there will be two sets of dirt roads in next year's Tour. However, Gouvenou is also the route planner for the Dauphiné, though that is often used to test run stages ahead of the Tour, so if not in 2018, it may well appear at some point in the future.
Tour de France 2018 – route speculation
The fact that this year's parcours definitely seemed to have been designed to upset the apple cart (otherwise known as the Sky train and now 4x Tour winner Chris Froome), and perhaps play more in the hands of French hope, Romain Bardet and other punchier riders, folks will be eagerly awaiting to see what event organiser Amaury Sports Organisation (ASO) will do next.
Also, many of the more iconic Tour de France climbs were missed out this time around, so will we see any of them make a welcome return in 2018?
What about summit finishes? Given there were only 3 this year, will we see any more of those again?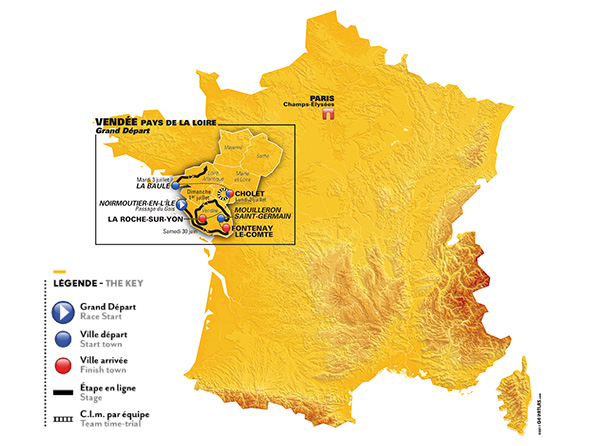 What we know so far about the Tour de France 2018
Dates: Saturday 7th – Sunday 29th July 2018 (1 week later than originally planned due to the FIFA World Cup – the official map still shows the old dates)
Team Size: – Teams will be reduced to 8 riders instead of the usual 9. This could have a major impact on the race next year, as well as the type of parcours chosen.
Grand Depart: Returning to La Vendée region, particularly the Pays de la Loire for all 3 opening stages – one of the heartlands of French cycling.
Stage 1: Noirmoutier-en-Île – Fontenay-le-Comte (195km). This stage entirely follows the west coast, so cross winds could definitely be a factor in this first stage, especially at 'Marais Poitevin'. It looks totally flat, so a rare chance for a sprinter to get into the yellow jersey on day one.
Stage 2: Mouilleron-Saint Germain – La Roche-sur-Yon (185km) – slightly lumpy so could be a good one for the breakaway, but it's unlikely teams with sprinters will want to allow that to happen.
Stage 3: Cholet – Cholet (35km) – after being absent in 2017, the Team Time Trial (TTT) is back! It's a city centre route, with a tough 800m climb at the finish. The first opportunity for GC teams to see how everyone is doing and perhaps to see some time gaps in the first week.
Stage 4: La Baule – ??? – it is assumed the race will veer north west at this point, into Brittany, one of the other 'homes' of French cycling.
Stage 21: ??? – Paris, Champs Elysées
Tour de France 2018 – early route rumours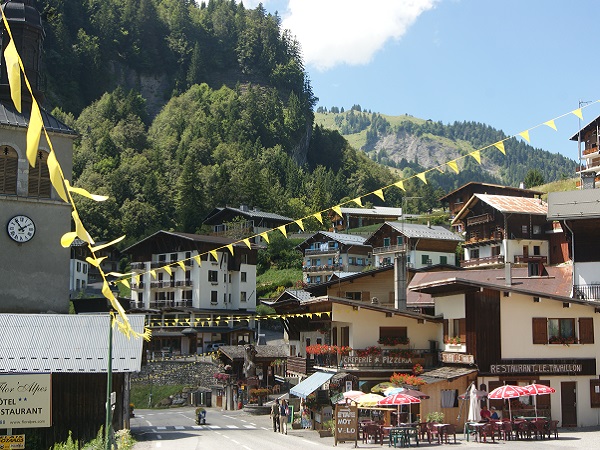 Exact details of the remaining stages won't be revealed until the official presentation in October. However newspaper Ouest-France, covering the west of the country seems to have some insider info and have suggested the route might continue to La Baule – Sarzeau, Lorient – Pointe du Raz, and Brest – Guerlédan for stages 4-6.
Could we be seeing an ascent of the infamous Mûr-de-Bretagne on stage 6? Also rumours suggest the Tour might be using some of the dirt roads used in the Tro-Bro Léon – "l'Enfer de l'Ouest" or "Hell of the West".
This all seems to be on fairly good authority, because the Mayor of Sarzeau is none other than David Lappartient, the President of the French Cycling Federation, and possible contender for the UCI President's throne.
Other rumours for the Tour de France 2018
A diversion into the Swiss Jura via Neuchâtel/Berne to Besançon;
A stage in the Alsace/Lorraine area, to commemorate 100 years since the ending of the 1st World War
Brides-les-Bains to Méribel;
Superbagnères – an Hors Catégorie (HC) climb in the Midi-Pyrénées region;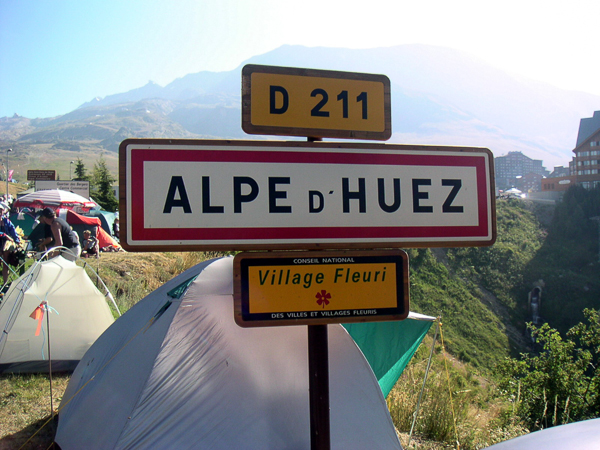 An Individual Time Trial (ITT) up Alpe d'Huez, possibly on the 14th July (Bastille Day) (now THAT would be interesting!!). So if the race only starts on the 7th, that would mean a very early trip to the Alps for the following weekend;
Apparently hotels are booked up in Dreux/Chartres for Friday 13th July, the eve of Bastille Day. So that would mean Sat-Mon – the Vendee, Tues-Thur – Brittany, Dreaux on Friday, then potentially across to the Alps for the big day up Alpe d'Huez on the Saturday. Not totally implausible if they were to fly down, but big transfers often tend to happen before rest days rather than in between major stages. This would give us week 2 in the Alps, with week 3 most likely finishing up in the Pyrenées;

NEW!

– the 2nd week in the Alps is looking pretty certain now!
The possibility of the Etape du Tour taking place up Semnoz, behind Lake Annecy, which would mean a stage there again in the Tour de France 2018, possibly including the Aravis region once more – maybe even a stage finish in Le Grand Bornand. This would mean fantastic news for us and our guests as it might pass right by our door again. We're keeping our fingers crossed!

NEW!

– this is also looking to be a very strong probability!

So that's all for now, but we'll be keeping an eye on all of the latest news and will keep this post updated.

In the meantime, if that has sparked your interest, why not check out our recent post about designing your own Fantasy Tour de France Route, featuring your favourite 9 cols. You can read some of our team's selections there too.

If you're interested in joining us to watch a stage or two of the Tour de France 2018, we are organising a special 4-day Tour de France Weekend Package, where you'll also get to ride some of the cols previously used in the Tour. You can find out more here >>>